Edwina Ashton – Out With the Hammers
Thu 01 Jan 1970 - Thu 01 Jan 1970
Category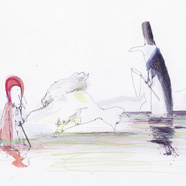 Edwina Ashton – Out With the Hammers
Ashton conjures a darkly humorous world of stilted conversation and genteel misunderstanding, in which humans may interact with her misshapen insects and half realised creatures without batting an eyelid. Her eccentric concoctions of character and narrative serve to ridicule the rules that govern social interaction in a manner that is delicate and demented in equal measure. New works, including her latest animated film, are inspired by the life and studies of C19th naturalist and theologian Phillip Gosse, and the marine life he studied in Devon's rock pools. Edwina Ashton is based in London and has exhibited widely, both nationally and internationally most recently in 'Rude Britannia', at Tate Britain and at Works|Projects, Bristol. This exhibition launches Edwina Ashton's latest animated film, In a Rose Columned Forest commissioned by Phoenix Gallery and Animated Exeter in association with Animate Projects. Supported by: Animated Exeter and Animate Projects.
ARTISTS TALK
Sat 19 Feb, 2.30pm, FREE but booking is essential
Edwina Ashton will discuss the exhibition and her practice.
Promoter : AN EXETER PHOENIX PROMOTION