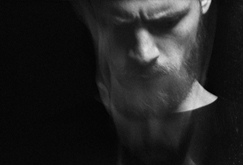 Edward Scissortongue
*Please note that there is a £1.50 fee per transaction
OneLion presents
Edward Scissortongue
Over the last few years Edward Scissortongue has morphed into one of the most outlandish and enterprising musical entities operating in the UKHH scene. The process has been gradual and grinding; leaps and bounds in the space of an evening juxtaposed by months lost in the darkness have seen him develop a musical verve unlike any other; the adventures of a man wading through his very own homemade universe.
His output on a day-to-day is a cause of alarm for his nearest and dearest, who surreptitiously discuss the cocktail of personality disorders they suspect may be the cause of his unique breed of oddball behaviour. In stark contrast, people less close to his heart often stare at him with equal levels of concern and dismay as he twists and twitches down the street, listening to his own voice, while rapping along. It has taken a while, but he has come to the realisation that life is too short and precious to worry about how the cogs turn; they turn the way they do because that is the way they turn. Let them go about their business…
Scissor doesn't care much for the should's and shouldn'ts and neither should you. He lives for the music, and refuses to let anything get in the way of that. His music represents the never ending struggle to find total freedom in something. He likes the idea that his music does the talking and truly believes that anyone who cares to know him as a musician would agree wholeheartedly with that sentiment.
Also on the line-up
CW JONES
Jones is a living, breathing embodiment of originality. Hailing from the southeast, he has built up a resounding reputation through his live shows and features as well as his recent debut solo EP out on Bone Dry Records. He seamlessly blends blues rock and hip hop in a unique fusion that never fails to disappoint. He's on the map in the UKHH scene as well as a whole bag of other places too so if you dont already know the name, there's no doubt you will very, very soon.
Terrace after party: 10pm – 2am

Our aim is to keep the party going with hip hop vibes late into the night. Expect a selection of the southwest illest Mcs and Djs holding it down plus open mic cyphers, giveaways and mad vibes. This will be free to ticket holders or £5 on the door to those who missed the main event.
MC's
D-Tox
Deerskin
Good Writtens
Subindex
Kid Quick
Morts
Jam-C
Cletus
Slardy
Verbo
Motman
Jacksie
J rolls
Dj Krissy Kuts
+ Open mic
VENUE: EXETER PHOENIX