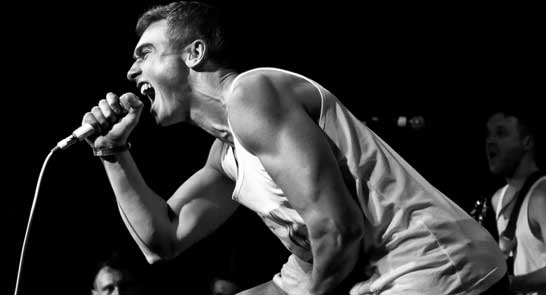 Don Broco
Opting for a bark over a bite is the trap that most rock bands fall into. But turning up to 11 and high-fiving your bandmates, as you blow another eardrum, is rendered pretty pointless if your chorus hits home like a Boris Johnson bellyflop. The loud/louder/REALLY LOUD dynamic can only ever be as good as the song allows it to be.
It's an approach that Bedford four-piece Don Broco are keen students of. Having formed officially in 2008 after a number of years playing together, and in various other bands, at Bedford Modern School, vocalist Rob Damiani, guitarist Simon Delaney and drummer Matt Donnelly have honed the art of rock music with a gloriously melodic edge. Joined by new recruit Tom Doyle on bass, the quartet's debut album is one of the most adrenaline-veined, hook-heavy rock debuts of the year.
With the album scheduled for an August release, Don Broco look set to emerge as the bright, brute new force in British rock – and beyond. "We wanna be known as a good group that write good songs. We don't wanna get pigeon-holed." True to their word, Priorities defines this quartet as a band determined to exist in their own thrilling right.
VENUE: THE LEMON GROVE