This event has passed.
Deadly Intent (15) + Q&A
Category
Book Now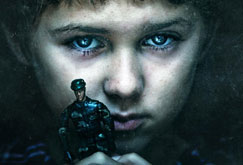 Deadly Intent (15) + Q&A
*Please note that there is a £1.50 fee per transaction
Deadly Intent (15) + Q&A
2016 | UK | 82 mins
After the tragic death of her husband, a soldier posted to Afghanistan, Bryony tries to build a new life for herself and her young son, James.
Struggling with her own grief she fails to notice that James has become secretive and withdrawn, spending hours alone playing out death scenes with his toys. When things start to go missing and furniture is smashed Bryony blames James but when she confronts him she finds herself facing a reality more terrifying than any nightmare. As her world crashes around her Bryony realises that unless she can find a way to reconnect with her son she and James will be separated for ever.
Q&A: Meet The Filmmakers
Deadly Intent was filmed in Teignmouth and Dawlish using a Devon based production and post production team. Join the filmmakers for a post screening discussion to learn more about feature filmmaking in the local area.
The film stars Rebecca Reaney, Peter Lloyd, Lara Lemon and introduces Gus Barry in his first feature role. Since completing Deadly Intent Gus has been nominated for a BAFTA for his performance in the BBC series Hetty Feather.
Director Rebekah Fortune trained as an actor and worked extensively in theatre and TV before moving into directing. She then formed her own company which toured the UK for more than 15 years. Rebekah then decide to transistion into film. Her first short Something Blue was selected for festivals worldwide and was picked up by Channel 4.
Venue: Studio 74, Exeter Phoenix