David Bowie & Performance Writing
Postponed
Category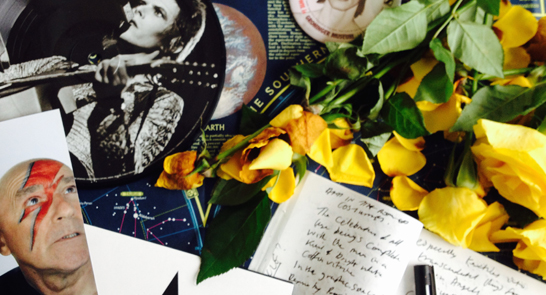 David Bowie & Performance Writing
*Subject to a £1 ticketing system charge. We don't charge this to make a profit. Find out more >>
Postponed
This event has been postponed. A new date will be announced once confirmed.
David Bowie & Performance Writing
With Simon Persighetti
Marking the second anniversary since the loss of the Starman, to what extent has the life and work of David Bowie become our creative ground control?
Adopting methods employed by Bowie to generate written material, we will also develop work through other modes of writing and collaborative experiments in the making of performance material. A mile-wide asteroid discovered in 2008 officially bears the name 342843 DavidBowie. What will be the findings of a constellation of people as we explore his legacy through the lens of performance writing?
As 'chameleon, comedian, corinthian and caricature', this workshop offers the opportunity to connect, collaborate, create, and perhaps even discover a new performance constellation. Writers, performers, photographers, visual artists and Bowie fans welcome.
'All art is unstable. Its meaning is not necessarily that implied by the author. There is no authoritative voice. There are only multiple readings.'
DAVID BOWIE, 1995
Simon Persighetti
Simon Persighetti is an artist, performance-maker and writer, his practice lives in the re-imagining of cities, towns and landscapes through an active and playful engagement with people and place. His performances, walking and relational arts projects have been commissioned by partners including Compass Live Art, Live Art Development Agency, Plymouth Arts Centre, Spacex Gallery, Live@LICA, and B-Side Festival.
He is an experienced educator, lecturing in site-specific performance and devised theatre at Dartington College of Arts (1997-2008) and Falmouth University (2009-15). He programmed for tEXt Festival at Exeter Phoenix (2002-2007). Simon is a core member of Wrights & Sites and co-author of A Mis-Guide to Anywhere. This Bowie and Performance Writing project was originally developed for a Live Art Development Agency DIY Workshop held at Colchester Art Centre 2016 in collaboration with Katie Etheridge.
Venue: Exeter Phoenix, The Workshop