David Blandy: Passage of the Soul
Thu 01 Jan 1970 - Thu 01 Jan 1970
Category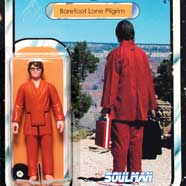 David Blandy: Passage of the Soul
David Blandy's work deals with his problematic relationship with popular culture, highlighting the slippage and tension between fantasy and reality in everyday life. Searching for his cultural position in the world, Blandy often uses humour to ask the difficult question of just how much the self is formed by the mass-media of records, films and television, and whether he has an identity outside that.
Passage of the soul brings together several recent works that explore this ongoing quest, as enacted by a cast of alter-egos that stem from the artist's passions for kung fu, soul, hip hop and Japanese manga. These include his powerful Hiroshima inspired video and installation Child of the Atom; Duels & Dualities: Battle of the Soul, a hacked beat 'em up arcade game which pits Blandy's back catalogue of alter-egos against each other in a traditional 2D fighting arena; and the first part of a new, episodic animation Anjin which draws reference from 1980's Franco-Japanese TV cartoon Ulysses 31 (itself inspired by Homer's Odyssey) and the life of William Adams – the first Englishman to reach Japan and the only westerner to be granted the title of Samurai.
Eye Opener: Wed 22nd Feb, 1.30pm, FREE
Join in with an informal discussion about the exhibition in the gallery.
WEBSITE: WWW.DAVIDBLANDY.CO.UK
See exhibition images here
This exhibition has been produced in association with Animate Projects and Zabludowicz Collection.