Darren Harvey-Regan: A Collection of Gaps
Thu 01 Jan 1970 - Thu 01 Jan 1970
Category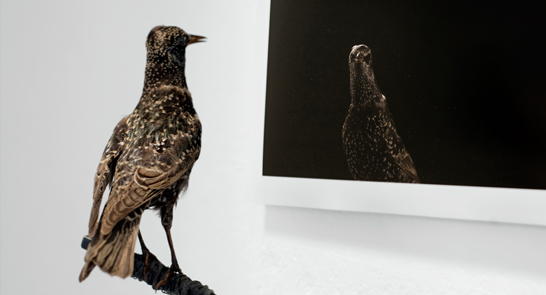 Darren Harvey-Regan: A Collection of Gaps
This solo exhibition brings together recent work by Darren Harvey-Regan which explores the interplay between image, object and meaning and often blurs the distinction between photography and installation.
His 'Elisions' series investigates the representation of animals, their classification and their ability to expose human narratives. Inspired by the labelling, archiving and presentation of museum specimens, he employs humour and pathos – alongside philosophical and taxonomical references – to probe the application of human language and meaning to the ultimately unknowable experience of the animal.
Harvey-Regan's broader practice presents an ongoing interest in the ways we construct meaning through appropriation. His presentation of photographs in interaction with objects and text serves to highlight the inherent tensions within representation; between the photograph as an object and the image of the world it contains. In this way, he considers the photograph as being something not only to think about, but to think with.
Originally from Exeter, Darren now lives and works in London. He was recently selected for New Contemporaries 2010 and the Caitlin Art Prize 2011
Artist's Talk: Sat 23 July, 2.30pm, FREE
Eye Opener Discussion: Wed 27 July, 10.45am, FREE
A chance to find out more and discuss the exhibition with others.
WEBSITE: WWW.HARVEYREGAN.COM