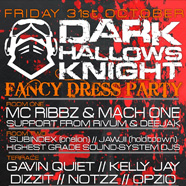 Dark Hallows Knight
*Please note that there is a £1.50 booking fee per transaction
Exeter's scariest Halloween fancy dress party with a massive £50 cash prize to win from the best costume. To enter share a photo of yourself on facebook while you're at the event using the hashtag #darkhallowsknight.
Held over two rooms and the legendary terrace, Dark Hallows Knight boasts the finest F1 sound, amazing lights and visuals.
We also have some two of the biggest legends the techno world has to offer – none other than the legends Mach One and MC Ribbz.
Full line-up:
Mach One
MC Ribbz
Highest Grade Sound-System
Subindex
Jawjii
OpziO
Dizzit
Gavin Quiet
Kelly Jay
Notzz
Deejak
Rivum
DJ Mach One & MC Ribbz
After holding a few warehouse parties in Amsterdam in 1990, DJ Mach One and long time musical ally and friend, MC Ribbz, founded the original Dreamscape events in 1991 before creating Revelation in 1992. One of the UK's first underground music clubs and arguably the largest of its time, it prided itself on an open minded attitude to music.
The cream of the UK's underground music scene spun records alongside a rotating roster of the south west UK's finest DJs, the club was held at Verbeer Manor in the Devon countryside for over 3 years and succeeded against the odds in establishing itself as a mecca for cutting edge music, attracting up to 800 people a week from across the country. It gained some notoriety when it appeared unjustly on the Roger Cook report in 1993.