Daoiri Farrell & The Damien O'Kane Trio
Category
Book Now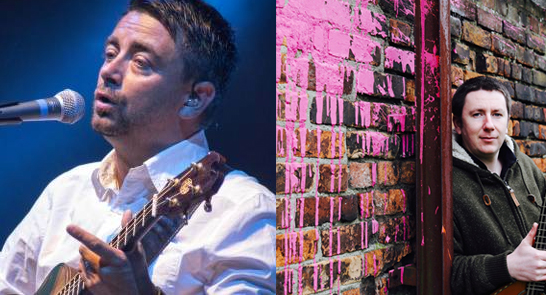 Daoiri Farrell & The Damien O'Kane Trio
*A note on transaction fees
A small £1.50 fee is added to each transaction. This covers the cost of getting your tickets booked, that's everything from the booking software to card charges. We don't charge this to make a profit.
Daoirí Farrell & The Damien O'Kane Trio
This double headliner gig brings two Irish musicians at the top of their game to Exeter.
Damien O'Kane is a Northern Irish musician of many talents and a BBC Radio 2 Folk Award nomination to boot. Teamed up with master guitarist Steven Byrnes (Treacherous Orchestra / Kate Rusby) and Steven Iveson's sublime and exhilarating electric guitar playing, this is a trio that take traditional Irish music and song and, in the words of The Telegraph, turn it into 'Folk-Pop that is Irish music for the 21st century'.
Daoirí Farrell has come a long way since then and the early release of his accomplished debut album The First Turn in 2009. He has since performed alongside some of the biggest names in Irish and international folk music including Christy Moore, Dónal Lunny, Martin Hayes, Dennis Cahill, Alan Doherty, Danú, Dervish, Julie Fowlis, The Young'uns, Paddy Keenan Trio, Matt Molloy, Arty McGlynn, The John Carty Big Band, The East Pointers, Kíla, Sean Keane, Gerry O'Connor (Banjo), Gerry O'Connor (Fiddle), Alan Burke, Lynched and more.
BBC Radio 2 Folk Awards 2017
Daoirí Farrell has been nominated for:
Folk Singer Of The Year
Horizon Award
Best Traditional Track: Van Dieman's Land
Venue: Exeter Phoenix