Danny Everton
Events Temporarily Postponed
Thu 01 Jan 1970 - Thu 01 Jan 1970
Category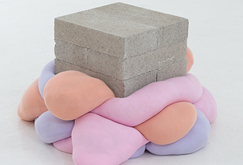 Danny Everton
(Image by Helge Mruck)
---
GALLERY333
Danny Everton
---
Fascinated by Bumps, lumps, knobs, swellings and bulges, whether it be the vacuum-packed meat aisle down Tesco or the way our bodies fat and flesh are squeezed and squashed into shape. This attraction is carried into a humorous, personal study of soft-yielding and hard-resisting materials. Observing how they treat each other when forced into a close relationship.
---
VENUE: GALLERY 333, EXETER PHOENIX
An intimate window gallery for micro-installations and sculptural interventions.