Crimson
Delta Saxophone Quartet
Category
Book Now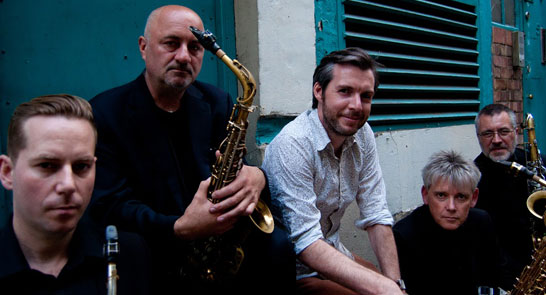 Crimson
*Please note that there is a £1.50 fee per transaction
Delta Saxophone Quartet
Crimson
This eclectic programme joins the forces of the Delta Saxophone Quartet with one of the UKs most imaginative jazz composers Gwilym Simcock and draws its inspiration from the music of the iconic British prog rock band King Crimson.
The quartet has worked closely with many leading composers having commissioned works from Gavin Bryars, Steve Martland, Joe Duddell, Hugh Hopper, Mike Westbrook, Mark-Anthony Turnage and Michael Finnissy to name a few. The quartet has always looked to extend the range/repertoire and possibilities of what a quartet of saxophones can present, combining a variety of musical genres and styles with a dynamic and informative presentation.
Musical accolades are no stranger for Gwilym Simcock too, being a winner of the Perrier Award, BBC Jazz Awards 2005 and British Jazz Awards 2005. Gwilym was also the first BBC Radio 3 New Generation jazz Artist. His performances with Bill Bruford's Earthworks gives Gwilym the 'inside-edge' and 'knowledge', which adds a real gravitas to this exciting project.
'We really need more imaginative concerts like this… a rare treat.'
ROGER FARBEY, JAZZ JOURNAL
'Delicious & highly successful…'
RICCARDO FACCHI, FREEFALL JAZZ
MEAL DEAL AVAILABLE
Pre-order pie and mash when booking your ticket and have your whole evening out covered.
Pie & Mash Meal Deal ticket: £21 (includes meal and show ticket)
You can select your pie upon arrival. Visit the Pieminister Website now to see what's on offer.
Please book at least 24 hours in advance and arrive at least 1 hour before your event is due to start.
VENUE: EXETER PHOENIX