Chris Difford + Glenn Tilbrook
Category
Other Information
Standing
Book Now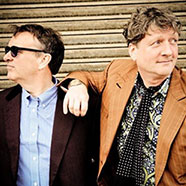 Chris Difford + Glenn Tilbrook
*Please note that there is a £1.25 booking fee per transaction
Chris Difford + Glenn Tilbrook
For the first time in almost 20 years, Squeeze's Chris Difford and Glenn Tilbrook will be heading out on the road as a duo with a show that will see them present their songs and story in a unique way. ??Chris Difford's lyrics and Glenn Tilbrook's music have prevailed through turbulent times over the past four decades, from the ever-changing musical landscape to their own internal reshuffles and an acrimonious break-up.
This new show will see Glenn and Chris reflecting on their careers, as part of Squeeze and as solo artists, sharing not only the music but also giving an insight in to what makes the two of them tick as a partnership.
Glenn Tilbrook
Former Squeeze frontman, Glenn Tilbrook, reputed for his considerable song writing talent, and irrepressible sense of humour.
'A jubilant and hilarious entertainer as well as world-class songwriter….' THE TENNESEAN
Chris Difford
Double Ivor Novello award-winning lyricist and enigma Chris Difford has brought us characters and sketches from every day life, turning the mundane into the beautiful, the urbane into the exquisite, for over 30 years. With his partner, collaborator, friend and Squeeze co-founder Glenn Tilbrook, Chris has written some of the most enduring and best-loved songs of our time – Up The Junction, Cool For Cats and Labelled With Love, to name but a few.