This event has passed.
CEDA Rhythms Community Music Day
Category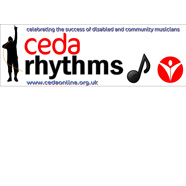 CEDA Rhythms Community Music Day
CEDA Rhythms Community Music Day
Come and join CEDA with an opportunity to celebrate and raise the profile of disabled musicians. With a variety of bands and acoustic acts playing as well as art created by the service users at CEDA – take part in music in the community.
This event is to celebrate a two year project thanks to the Youth Music Charity helping young people in challenging circumstances make music.
Line up includes:
Fish Police
Performers include Aaron Samuel, The Rockeries, Soundwaves, Luke Lundin, Bi Polar Bears and special guests The Fish Police. The Fish Police are travelling down from London to support this event after a successful UK tour last year. The band are breaking barriers and pushing boundaries as musicians with learning disabilities. Through being a band at the forefront of a nascent music scene, they are helping to shift perceptions and attitudes towards the learning disabled community.