Calm With Horses (15)
Events Temporarily Postponed
Thu 01 Jan 1970 - Thu 01 Jan 1970
Category
Book Now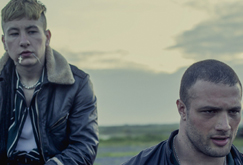 Calm With Horses (15)
*Subject to a £1.50 ticketing system charge. We don't charge this to make a profit. Find out more >>
---
EVENTS TEMPORARILY POSTPONED
In response to the developing coronavirus situation in the UK, Exeter Phoenix is currently closed to the public. This is a temporary measure and we are taking this on a month-by-month basis. No events will be taking place during March, and the vast majority of events will be rescheduled for later in the year. We are following government advice and acting in the best interests of our visitors and staff.
Unprecedented closures like this with no confirmed government support will be hugely damaging for charities like Exeter Phoenix and many other sectors. If you are in a position to consider making a donation HERE, we would be extremely grateful.
---
Calm With Horses (15)
Dir. Nick Rowland
2020 | 120 mins | Ireland
---
SHOWING TIMES:
Fri 10 Apr: 8.30pm
Sat 11 Apr: 8pm
Tue 14 Apr: 10.45am + Breakfast Deal
---
TICKET PRICES:
£8* – Standard
£5* – Student / Under 25
£5* – Screenings Before 5pm (Excluding Sunday screenings)
+£5* – Add £5 to your ticket to claim our Breakfast Deal
£21* – 3 film tickets for £21
---
The gripping, simmering feature debut from British filmmaker Nick Rowland stars Cosmo Jarvis (Lady Macbeth) and Barry Keoghan (Dunkirk), two of the UK and Ireland's fastest-rising stars.
Based on an award-winning novella, Calm With Horses is set in darkest rural Ireland, ex-boxer Douglas 'Arm' Armstrong has become the feared enforcer for the drug-dealing Devers family, whilst also trying to be a good father to his autistic young son. Torn between these two families, Arm's loyalties are truly tested when he is asked to kill for the first time.
---

BREAKFAST + FILM |
ADD THIS TO YOUR TICKET FOR JUST £5
Enjoy breakfast in our Café Bar before the screening on Tue 14 Apr.
A Bacon or Sausage sandwich served in a glazed pretzel bun, alongside a crispy hash brown and served with any of our freshly made hot drinks or a can of delicious Cornish Orchards juice.
Breakfast + Film can be purchased from the box office or online, then simply take your ticket to the bar to order. Vegetarian/Vegan/Gluten Free options available.
(If you arrive after 10.30am, then we can't guarantee that you will have time to eat before the film, but you can certainly eat after!)
---
---
VENUE: EXETER PHOENIX, STUDIO 74