This event has passed.
Call For Entries: Exeter Contemporary Open 2014
Category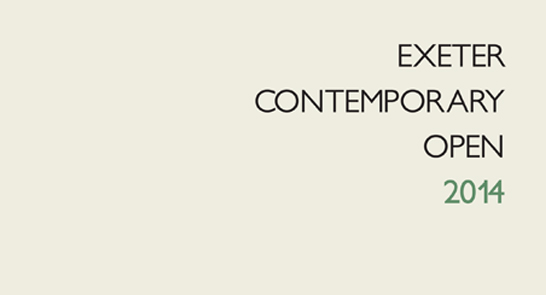 Call For Entries: Exeter Contemporary Open 2014
Exeter Contemporary Open 2014
CALL FOR ENTRIES
Exeter Contemporary Open is an annual, open submission exhibition that presents work from some of the most exciting emerging and established artists from across the UK and beyond.
The selection panel for this year's exhibition will include Independent Curator and Art Consultant, Ceri Hand, Turner Prize nominated artist David Shrigley and Phoenix Gallery Curator, Matt Burrows.
£1000 Overall Award
£500 Additional Award
£200 Audience Choice Award
The application process is now open.
DEADLINE: Fri 13 June
Exhibition will run from Fri 12 Sep – Sat 1 Nov.
Step 1
Download guidelines and an application form:
Click HERE for download (pdf)
Click HERE for download (docx)
Step 2
Pay the single application fee of £20 (£15 for students) to submit up to four artworks.
Online payments (subject to a £1 booking fee) can be made below. Alternatively, payments by cash/cheque may be posted with your application form.
Step 3
Post your entry to us before Fri 13 June.
NB. If paying online, please add your PayPal reference # to the application form before posting.
 PLEASE NOTE THAT SUBMISSIONS FOR EXETER CONTEMPORARY OPEN 2014 ARE NOW CLOSED.
Kindly sponsored by:                                                 
#ContemporaryOpen

See previous exhibition pages:
Exeter Contemporary Open 2012
Exeter Contemporary Open 2013