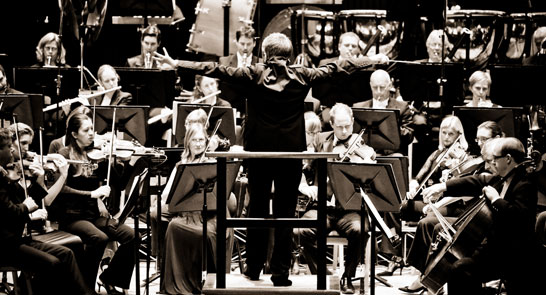 BSO: Lewis Plays Brahms

Bournemouth Symphony Orchestra – Lewis Plays Brahms
Works Performed
Schubert : Rosamunde Overture
Beethoven : Symphony No.8
Brahms : Piano Concerto No.1
Performers
Conductor : Kirill Karabits
Soloist: Paul Lewis (Piano)
The overture used to accompany Chézy's unsuccessful play Rosamunde was actually composed for an earlier play. It remains one of Schubert's finest orchestral pieces, filled with ingratiating tunes and demonstrating his characteristic warmheartedness and good humour. Its main theme appears at once, defining a kind of restless energy, which gradually builds in momentum to its bright and triumphal conclusion.
Beethoven created the sparkling Eighth Symphony at a time when his life was in emotional turmoil. His hopes of attaining the passionately loved woman he addressed as his "Immortal Beloved" in an unmailed letter were dashed, and he came to realize that marriage to her was not possible and that he would be forever alone. Brimming with a surging confidence, it is a compact and energetic work filled with tongue-in-cheek humour, including unconventional key signatures, occasional loud interjections, a minuet where a scherzo ought to be, and a series of final chords that don't seem to know when to stop.
The origins of this concerto, Brahms' first symphonic work and one of the highlights of his early output, can be traced to 1854, when the composer heard a performance of Beethoven's Ninth Symphony. It is directly inspired by that revolutionary monolith and its own large scale is particularly in evidence in the first movement, a tremendous, unconventional structure filled with an almost over-abundance of themes. The effect is exhilarating and entirely unexpected which perhaps explains its early poor reception. The following meditative adagio is one of the most sublime of slow movements, whilst the final rondo has a brusque, even baroque momentum all its own.
VENUE: THE GREAT HALL