Beth Emily Richards
Gallery 333
Thu 01 Jan 1970 - Thu 01 Jan 1970
Category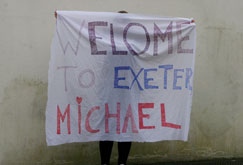 Beth Emily Richards

Beth Emily Richards
A new installation that explores the fact and fiction surrounding pop legend Michael Jackson's bizarre appearance at Exeter City's football ground St James' Park in 2002.
Beth Emily Richards is an artist based in Plymouth, UK. She explores notions of the performer, macho and the absurd through her performative practice. Her work addresses the veracity of the archive, particularly the role of lens-based media and documentation in live artworks. Richards utilises photographs, text, events and actions, performances to camera, sound works and props to subvert personal, sited and fictive histories. Strategies of 'failure' and changes of scale are often employed to disrupt expectations and hegemonies in a playful way.  She employs reenactment to interrogate concepts of authenticity, and to play with the malleability of meaning created by images, artworks and narratives.
VENUE: GALLERY 333
An intimate window gallery for micro-installations and sculptural interventions.
---
Performance Lecture
No Such Event Took Place
Tue 04 Oct 2016 | 7pm | free
No Such Event Took Place is a performance lecture investigating the 1999 Michael Jackson gig in Barnstaple's Queen's Theatre. Michael Jackson tributes use the narrative as a starting point for conversations about lookalikes, reenactments, the power of audience belief, online fan forums, and the mirky world of celebrity-obsessed tabloid journalism.
Venue: Exeter Phoenix