Ben Tupper: 2016 Artists Moving Image Commission
Category
Book Now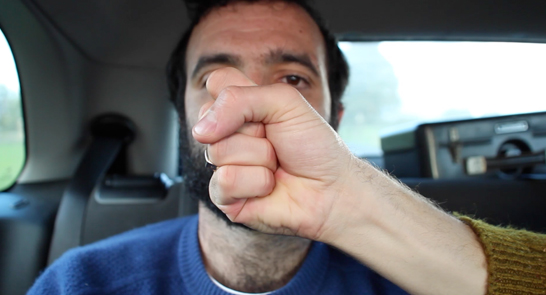 Ben Tupper: 2016 Artists Moving Image Commission

2016 Artists' Moving Image Commission – Premiere Screening
Ben Tupper
A Mythology in Self Defence
Bristol based artist Ben Tupper's new moving image project will draw upon a combination of European film references, newly shot handheld footage and looped audio samples to explore conflicting methods of narrative construction and latently observe presentations of emotional masculinity.
The film's dialogue is directly transcribed from a conversation between French filmmaker Jean-Luc Godard and camera inventor Jean-Pierre Beauviala. Presented in conversational fragments, the two men argue over a never completed handheld camera commissioned by Godard and discuss the negative effects the experience has had on their personal relationship. Interwoven amongst their exchange are distantly observed events recorded through a Zenit Photo Sniper, a Russian camera developed by KMZ during the cold war and used primarily for surveillance purposes due to its rifle-like appearance.
To accompany the screening of A Mythology in Self Defence, Berlin based musician Chris Sergeant will produce a live experimental audio composition that will be broadcast simultaneously on community radio station Phonic FM (106.8fm), aiming to act as an alternative iteration or point of orientation between the film and the space in which it is encountered.
The premiere forms part of Exeter Phoenix's Two Short Nights Film Festival and will lead the Shorts #3: Artists' Moving Image programme. Ben Tupper will host a Q&A after the screening, which will be followed by a short programme of artists' moving image, which includes Dorine van Meel's Exeter Contemporary Open award winning film Disobedient Children, and other work from exciting new talent.
Venue: Studio 74, Exeter Phoenix