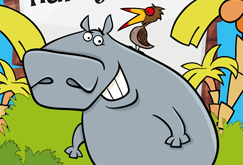 Be Happy Harry Hippo!
*Subject to a £1 ticketing system charge. We don't charge this to make a profit. Find out more >>
Hodgepodge Theatre
Be Happy, Harry Hippo!
Harry Hippo has lost his smile and can't seem to get it back. No matter what he tries or where he looks, Harry can't find his smile anywhere. What will he do?
Join Hodgepodge Theatre on their quest to deliver the ultimate pick-me-up to one of the world's most massive mammals. We'll need all the help we can get as we take Harry on a journey to remember all of the things that make him smile and to remember what truly makes him happy
Venue: Voodoo Lounge, Exeter Phoenix