Bacurau (18)
Events Temporarily Postponed
Thu 01 Jan 1970 - Thu 01 Jan 1970
Category
Book Now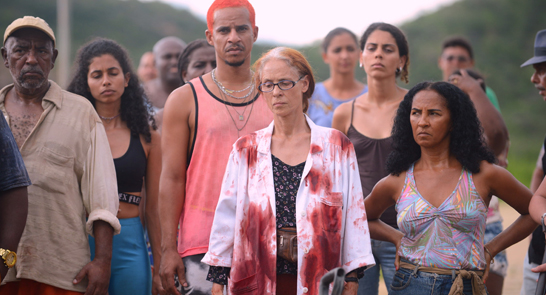 Bacurau (18)
*Subject to a £1.50 ticketing system charge. We don't charge this to make a profit. Find out more >>
---
EVENTS TEMPORARILY POSTPONED
In response to the developing coronavirus situation in the UK, Exeter Phoenix is currently closed to the public. This is a temporary measure and we are taking this on a month-by-month basis. No events will be taking place during March, and the vast majority of events will be rescheduled for later in the year. We are following government advice and acting in the best interests of our visitors and staff.
Unprecedented closures like this with no confirmed government support will be hugely damaging for charities like Exeter Phoenix and many other sectors. If you are in a position to consider making a donation HERE, we would be extremely grateful.
---
Bacurau (18)
Dir. Juliano Dornelles, Kleber Mendonça Filho
2019 | 130 mins | Brazil, France
Portuguese/French with English subtitles
---
SHOWING TIMES:
*Fri 20 Mar: 5.40pm

Sat 21 Mar: 8pm

Mon 23 Mar: 7pm
---
TICKET PRICES:
£8* – Standard
£5* – Student / Under 25
£5* – Screenings Before 5pm (Excluding Sunday screenings)
£21* – 3 film tickets for £21
---
*Fri 20 Mar, 5.40pm | Screening with short film Nyudj Calling (Dir. Karrabing Film Collective, Aus , 2019, 6 mins), a Projections commission from Tyneside Cinema's artists' programme.
---
Kleber Mendonça Filho (Aquarius, Neighbouring Sounds) and Juliano Dornelles present Bacurau – a wild, genre-blending siege thriller set in Brazil's remote backcountry. Winner of this year's Cannes Jury Prize, Bacurau is unlike anything you've seen before.
Bacurau, a small settlement in rural Brazil, is shaken by the death of its elderly matriarch. But something strange is happening in the village, and there's little time for mourning. The water supply has been cut off, animals are stampeding through the streets, and empty coffins are turning up on the roadside. One morning, the villagers wake up to find their home has disappeared from satellite maps completely. Under threat from an unknown enemy, Bacurau braces itself for a bloody, brutal fight for survival.
With unforgettable turns from Udo Kier and Sonia Braga, this is an audacious, original and spectacularly violent blend of neo-Western, revenge thriller and political allegory. Tipping its hat to Sergio Leone and John Carpenter, it's a whirlwind of genre twists and surrealist turns guaranteed to leave you punch-drunk and reeling.
---
Fri 20 Mar features a post-screening talk from Karrabing Film Collective.
---
---
VENUE: EXETER PHOENIX, STUDIO 74