This event has passed.
ATOI: Binlang
Gallery333
Thu 01 Jan 1970 - Thu 01 Jan 1970
Category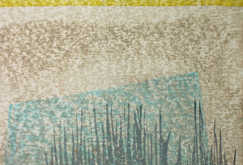 ATOI: Binlang

Gallery333
Atoi
Binlang
Amy and Oliver Thomas-Irvine are a collaborative duo that live and work in Cornwall. They work in sculpture, found-object, collage, photography, performance as well as by-products from performance-based installations.
Binlang takes the form of a fire extinguisher replica made from welded mild steal, Betel nut extract, poly vinyl and a perforated print. Amy and Oliver Thomas-Irvine are interested in how the reconfigured extinguisher and its relatable appearance can alter the architecture of this intimate gallery space and how the mix of image, object, material and space can create shifting layers of connectivity and meaning.
Wrapped around the body of the object is an image of a labor workers protest in Taiwan cropped from the cover of a local newspaper. Surrounding the print is a layer of PVC pasted in red Betel nut pigment. Betel nuts are a legal stimulant which specifically to Taiwan are known as Binlang and are prepared and sold by 'Betel nut beauties' who sit in small, tailor made, temporary glass fronted booths in which they prepare and sell the product. When the prepared Betel nut is chewed it produces a bright red saliva and it gives a mild feeling of euphoria and energy. The chewing of the fruit is a tradition, social custom and ritual which dates back thousands of years, today it is commonly used by workers to sustain energy in labour intensive, long hour jobs. The labor protest in Taiwan was against new laws which extended working hours without breaks. This pairing of pigment and image forms a relationship between the use of raw material and it's context within the present day, with the glass fronted intimate gallery relating to the booths used to sell the stimulant. The extinguisher is a device used to control emergency situations and is a symbol of energy and control.
Amy and Oliver Thomas-Irvine made this work after spending three months in Taiwan reworking material that derived as a by-product from real, physical, architectural and social environments. They lived in central Taipei, surrounded by the Government buildings in which protests were occurring from the day they arrived till the day they left. They made work in response to markings of the betel nuts on the streets, the barricades which were used to control the protesters, discarded building material from the protest square and daily front cover newspaper images.
VENUE: GALLERY333, EXETER PHOENIX
An intimate window gallery for micro-installations and sculptural interventions.