An Elephant In The Garden
Category
Other Information
ages 9+
Book Now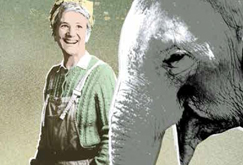 An Elephant In The Garden
*Please note that there is a £1.50 fee per transaction

An Elephant In The Garden
By Michael Morpurgo
Part of Exetreme Imagination
1945. Dresden, Germany. Lizzie, her mother – and an elephant from the zoo, flee the Allied fire-bombing in the end-game of the Second World War.
Escaping the Allies' advance from the West – and also the advancing Russian armies from the East – this extraordinary trio of refugees meet: a downed RAF officer, cowering in a barn; a homeless school choir on the run and their Countess saviour, harbouring them from the Nazis; and the mechanised American cavalry, appearing over the horizon.
It is Lizzie's story – but Marlene, the elephant, is the heroine. Plodding, obdurate, opportunistic, load-bearing, indestructible, cheering – Marlene embodies the stubbornness of the human will and how it will do everything to survive.
An Elephant in the Garden is the new adaptation by Simon Reade from Michael Morpurgo's best-selling children's novel. It is very much in the theatrical mould of their previous collaborations on Michael's war stories Toro! Toro!, The Mozart Question and the 5 star hit theatrical touring phenomenon Private Peaceful *****
Alison Reid has worked extensively as an actress at the RSC, for Filter Theatre, at Bristol Old Vic and at the National Theatre (where she starred in Michael's Jo-Jo The Melon Donkey). She regularly performs with Michael in The Mozart Question.
'Beautiful storytelling in action'
THE GUARDIAN
'Fantastically performed'
EXPRESS & ECHO 

Venue: Exeter Phoenix