Adobe Lightroom
One Day Course
Category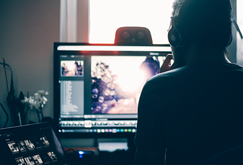 Adobe Lightroom
*Subject to a £1 ticketing system charge. We don't charge this to make a profit. Find out more >>
Adobe Lightroom – Cancelled
One Day Course
Lightroom is software for the professional and keen amateur photographer, helping you organise, edit and share your photography. It also allows for a cross platform interaction with other programs such as Adobe Photoshop. Lightroom will help you take control of a large collection of photos and edit and manipulate them. This is non-destructive software ideal for working with RAW images. It will enhance your digital photos and help with noise reduction, colour balance, cropping, sharpening and converting to black and white. This course will offer an overview of the library and develop modules for the complete beginner.
The workshop will teach you to:
Navigate your way around the software
In the Library Module:
Import images and introduce you to the tools and commands
to get your projects started.
Edit images in the pure sense of the word, deciding which pictures to keep and which to remove altogether using the Select tool.
You will learn how to rate pictures using the star rating system.
Metadata basics
Keywording
Exporting files
In the Develop Module:
Cropping, colour temperature, exposure, contrast, noise reduction, spot removal.
Working on images where you can see a 'before' and 'after' on the screen simultaneously.
All courses are taught on Apple Mac computers and skills learnt are transferable to PC.
Workshop attendees get 10% off all food and hot drinks at the Café Bar
Course Tutor – Vanessa Miles
Vanessa Miles is a professional photographer based in Exeter.
With a rich and varied career in the photographic industry, Vanessa uses Lightroom as part of her professional practice. Having worked in the picture library industry, she knows first hand the challenges faced to keep hold of a large collection of images, retrieve and store them as well as processing a large body of images shot for a wedding or press work under pressure.
VENUE: EXETER PHOENIX
Save