This event has passed.
9th UK Taiko Festival
Thu 01 Jan 1970 - Thu 01 Jan 1970
Category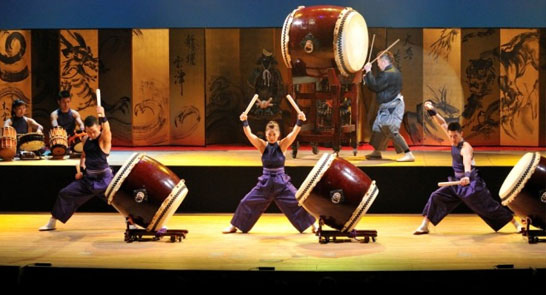 9th UK Taiko Festival

9th UK Taiko Festival Exeter
Fri 5 – Sun 7 July 2013
With its growing national and international reputation, the UK Taiko Festival returns to Exeter this summer.
The Festival features theatre performances by professional groups, a national youth taiko concert featuring the best young players in the country, free performances by adult groups from the UK and Europe, and taiko workshops for experts and beginners alike.
Headliners this year are AMANOJAKU, one of Japan's premier taiko groups, bringing truly international excitement to the event. Hundreds of taiko players will come to Exeter from across the UK and Europe for this event, and thousands of people will enjoy the fantastic sight and sound of taiko in the theatre, in the arts centre, and in the city centre. This is the only festival of its kind outside Japan and USA.
For events elsewhere in the city, please see kagemusha.com >>
TAIKO BEATS
Sat 6 July | 1:30pm – 3:30pm
Free taiko concert by 10 taiko groups from UK and Europe, including Tano Taiko from Exeter, Taiko Meantime from London, and Hanabi Taiko from Germany. This is a fantastic way to get to know taiko – seeing a range of different groups each giving a ten-minute taste of their particular style. You'll see different choreography, hear different rhythms, but what all groups share is excitement, energy and great spectacle. There's limited capacity in the Phoenix auditorium, so be sure to be early to see the show.
KAGEMUSHA JUNIOR TAIKO SHOWCASE
Sun 7 July | 1.30pm – 2.30pm
The stage will be taken by multiple award-winning Kagemusha Junior Taiko Group who have wowed audiences in venues ranging from their base at Seale Hayne (near Newton Abbot), to Birmingham Conservatoire and the Royal Albert Hall.  Will these twenty young people inspire you to start playing taiko? We think they will…
FREE WORKSHOPS – A TASTE OF TAIKO FOR CHILDREN!
Sat 6 July | 4pm & 4.45pm
Sun 7 July | 10.30am & 11.15am
A chance for younger ones to get their hands on these big drums – first come, first served, so be sure to get there early!
A TAIKO SONG THAT UNITES!
Sat 6 July | 5.30pm
Taiko players from all over the UK will join together to play a taiko festival piece called "Ei Ja Nai Ka?" (which means "isn't it good?" in Japanese).  This has never been done before in the UK, and we're hoping for over 50 players to take part.  If you want to join in, there is a workshop that introduces the taiko rhythms and dance on Saturday morning, so there is no excuse not to get on your feet and join in the fun!
WORKSHOPS FOR TAIKO PLAYERS
Throughout the weekend there will be a selection of taiko workshops on offer from the best taiko teachers from around the UK and Japan!
TAIKO FILMS, TALKS AND DEMONSTRATIONS
In addition to all the drum playing, there will be a series of taiko films running in the Black Box, origami, manga and other Japanese cultural activities, drum making demonstrations and a talk about the Japanese string instrument, the shamisen! All free of charge for the whole family to enjoy.
VENUE: EXETER PHOENIX