This event has passed.
64 Squares
Rhum & Clay
Category
Book Now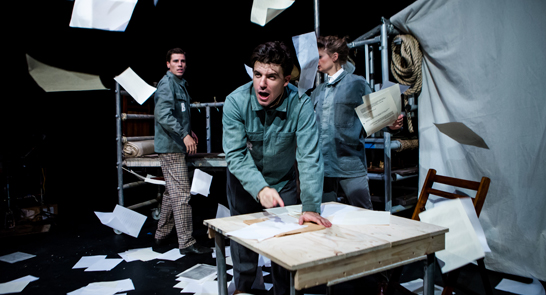 64 Squares
*Please note that there is a £1.50 fee per transaction
Rhum & Clay
64 Squares
'You might have noticed there are four of me. Don't worry. You'll get used to it. I have.'
Welcome to B's mind. B's got some memories he wants to share with you. He wants to tell you about how he ended up on a cruise ship, playing chess against the current world chess champion. He wants to tell you all about his life and the choices he's made. The problem? He's been split into four and can't remember what happened.
Adapted from Stefan Zweig's The Royal Game, the critically acclaimed Rhum and Clay Theatre Company bring you 64 Squares; a tale of madness, memory and chess…all accompanied by a live percussive score.
???? 'Rhum and Clay have come of age … beautifully put together, intelligent and moodily atmospheric'
THE GUARDIAN
????? 'This was weird and wonderful theatre performed with inch-perfect precision … the rustle of audience awe was lovely'
THE OBSERVER
???? 'The company… are energetic, ingenious with their movement, funny and the story is told with a fresh vigour.'
TIME OUT
???? 'This is a company of consummate storytellers whose craft, energy and commitment leaves you feeling exhausted and marvelling at their skills.'
BRITISH THEATRE GUIDE
???? 'The thrill of 64 Squares lies foremost in the intellectual and formal structures and it is a crystalline work of stagecraft.'
THE LIST
Venue: Exeter Phoenix