Film Commissions 2008
<![CDATA[
Commissioned by Exeter Phoenix with support from Devon County Council.
Invaders
Produced by Gus Cummins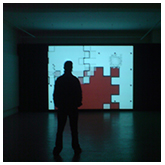 Gus Cummins' Invaders was created using medical data collected by an electroencephalogram (EEG) which recorded the artist's own brain activity during epileptic seizures through a series of electrodes glued directly to his head. The resulting streams of information have been converted into both visual and sound signals using a computer interface constructed by the artist. Referencing the '70's arcade game Space Invaders, a sense of invasion by an alien presence represents both rogue activity within the artist's brain, and the negative attitudes to epilepsy which can be shown by society. www.cummins-art.com
Film
2008 Short Film Commissions
Commissioned by Exeter Phoenix with support from Devon County Council
Man-Cub
Written and directed by Tom Austin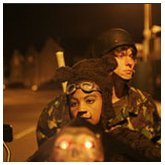 The death of an old woman opens up a can of worms for the reticent Frank. With the help of a friendly grave-digger, he sets out to bury the past and the hatchet, and to finally move on with his life.
The Simple Lies Experiment
Written and directed by David Salas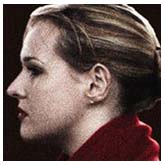 The Simple Lies Experiment is a 21st century noir - and the opening sequence of an interactive film that anyone can add to, change and take control of. Character is dictated by costume and anyone with an internet connection can re-edit the material or shoot new scenes to take the story forward. 'The creative process is no longer contained within an individual skull' - William Gibson.
Untitled Dystopia
Written and directed by Martin Lejeune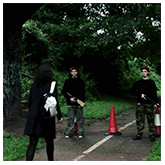 A pre-apocalyptic comedy about an artist and her friend at the worlds end...
Making the Difference
Written and directed by Andrew Oxley & David Williams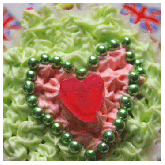 What is life without the unadulterated pleasure of a slice of cake to break up the day? Stop, sit back and relax with six members of our fine nation as they enjoy a cup of tea and a slice of their favourite.
Distraction
Written and directed by Toby DeBurgh
'Distraction' tells the story of a night in the life of an insomniac named Ben, who is forced to listen to an increasingly violent argument coming through his bedroom wall.
The Surrogates
Written and directed by Vicky Smith
Images of actors are scratched directly from found 16mm film into clear leader and cut to a soundtrack of classics from sound effects libraries. Lacking substance and taken out of context their gestures and actions become a charade. This is a meditation on how readily people rely on cues proposed by the dominant media. With its industry reputation of 'cheating', the notion of copying lies at the heart of both the rotoscope method and the borrowed sounds and actions of this project.
2008 Animation Commission
Commissioned by Exeter Phoenix with support from Exeter City Council
The Screaming Skull
Written and directed by Ashley Thorpe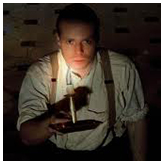 Spencer Penraddon returns from the 1st world war to his ancestral home. His sister has succumbed to the blight that has cursed the family since the hall was erected. And symbol of this curse is 'the Screaming Skull'. None have dared move it for fear of the terrors it will unleash. Spencer however wished to be free of the house and its ghosts. But the ghosts of Penraddon hall are not ready to be put to rest... That night, as Spencer walks the halls labyrinthine corridors, he is assaulted by horrors; spectres of the past...and a grim realisation of his own fate.z
2008 Tiger Bills Commission
Commissioned by Exeter Phoenix with support from Tiger Bills Champion Noodle Knitter Produced by Jerri Hart Local filmmaker Jerri Hart has been commissioned to create a short poromotional film for Tiger Bills restaurant. Jerri was awarded financial support from Tiger Bills restaurant as well as in-kind support, including equipment hire, from Phoenix Media to help him realise the project.
Young Filmmaker Commissions
Exeter Phoenix, Animated Exeter and Mediabox supported a group of young animators to inspire them to create their own personal imaginary friend and bring them to life with animation. This collection of films is a window into the imaginations of some remarkable young people, many of whom have faced difficulty in their lives.