Support Exeter Phoenix: Buy A T-Shirt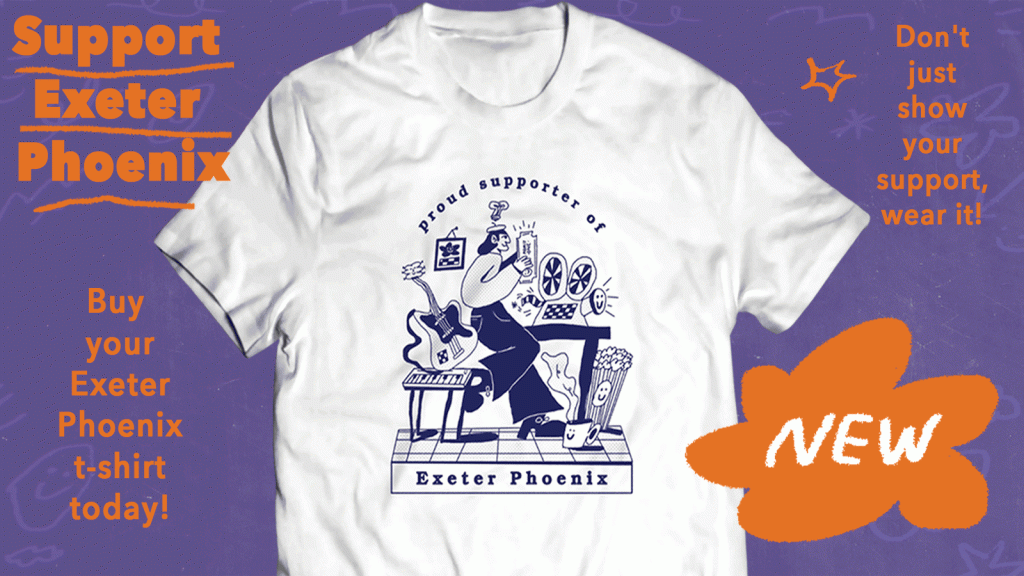 Do you want to show your support for your local arts venue at this challenging time? Grab yourself one of our brand new t-shirts and wear your support for Exeter Phoenix with pride!
Over the last couple of months, would you usually have spent £20 on gig tickets, a round of drinks, cinema trips, classes and workshops, a night at the theatre or any of the other activities that go on under our roof? If so, please consider showing your support for the arts you have been missing by buying a t-shirt today. Supporting your local venue has never been more vital.
---
These tees are perfect for:
Gig going
Theatre trips
Creative workshops
Cinema trips
Reading your book in a café
Grabbing a pint with friends
Taking in an exhibition
Hanging out at a film festival
…And it just so happens you can do all of these things under our roof!
---
These t-shirts are lovingly designed by our in-house designer and locally printed in our building by Double Elephant Print Workshop.
The t-shirts will help to raise vital funds to support Exeter Phoenix during this extremely challenging time for the arts. Our income is mostly reliant on events where big groups of people have fun together, so as you can imagine, the lockdown and social distancing has hit us hard. Your support will help to ensure we are here to keep culture thriving in Exeter when we reopen our doors on the other side of this.
---
BUY NOW
Scroll through our 'merchandise' browser to find the different sizes of T-shirts. T-shirts cost £20, plus £2.50 postage and packaging. See the full design of the t-shirt at the bottom of the page.
---
Printed by our friends at Double Elephant Print Workshop.

---