Bring your toys and your imagination to life this half term!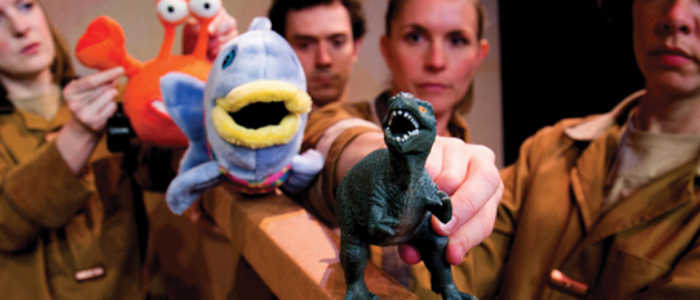 Explore, Learn and Get Involved this Half Term at Exeter Phoenix
Exeter Phoenix's half term events are full of wonder with theatre, films and courses to keep children, and those who are young at heart, inspired and engaged while school is out.
Bring Your Toys To Life
Family theatre show Your Toys, from Slot Machine Theatre company, invites its young audience to bring their own toys to life. Using a unique style of puppetry, original live music and quirky humour, the show is literally made by the audience's toys. Expect adventure, laughs and audience participation at this show suitable for 5-9 year olds and their grown ups.
Family Films In Studio 74
Exeter Phoenix's cinema, Studio 74, will be full of the charms of Studio Ghibli as two of their classic anime films grace the screen. From Sun 22 Oct, Howl's Moving Castle, will give a glimpse into a magical world full wizards, witches and spectacular spells.
From Mon 23 Oct, Ponyo will delight families with a modern adaptation of Hans Christian Andersen's classic fairy tale The Little Mermaid. With special crafting sessions at each screening, it will be easy to make a day of it.
Creative Courses And Workshops
From minecraft to animated movies, be inspired this school holiday with a host of creative courses.
Young people aged 9-14, will gain hands-on experience building the code behind one of the most popular games in the world in Coding for Minecraft on 23 Oct. On Oct 24, at Halloween themed half-day workshop Metamorphosis Animation: Shape Shifting Spooks, children aged 7-14 can use hand-drawn animation techniques to see their spooky designs transform right before their eyes. Those with a passion for plasticine can get stuck into a full day of animated learning with the Young & Animated Taster Session for 8-16 year olds on Wed 25 Oct. Organised by Young & Animated Saturday Club and Young & Animated Plus tutors who run our regular six week courses, it is a great opportunity to try something new this school holiday.
We look forward to seeing you for some creative fun this half-term!