Get Involved: Bloom Community Exhibition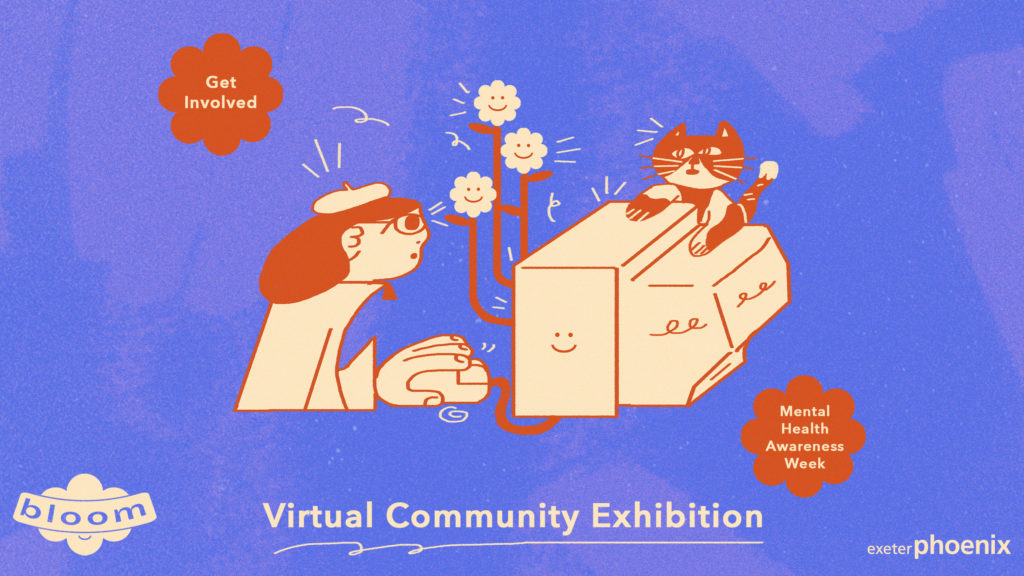 Bloom: Exeter's Festival Of Mental Health Awareness returns to Exeter Phoenix this May. Following on from last year's virtual community gallery we are now inviting your entries to the Bloom Community Exhibition 2021.
Bloom is a free, virtual festival raising awareness for mental health and helping you feel connected to Exeter's local community at this time. Alongside the community exhibition, the festival will feature online music, workshops, poetry, storytelling, resources, family events and more.
The virtual Bloom Community Exhibition 2021 aims to spread positivity through sharing creativity and talent across our community. The theme for this year's exhibition is nature and the environment.
Submissions are free and open to everyone – whether you're an absolute beginner, an experienced artist, or just want to share some of your lockdown creativity. You can take a look at last year's exhibition which featured a broad array of paintings, drawings, digital art, photography, sculptures, sketches and children's artistic creations.
Now it is over to you to get involved! Help us create a snapshot of creativity within Exeter's local community at this time. We know there is a wealth of talent in our community and we are proud to showcase this. We look forward to welcoming your entries and sharing the virtual gallery on our website and social media channels in May.
---
How To Enter The Bloom Community Exhibition
Submissions are free and open to all. The theme for entries is nature and the environment. 
All forms of art are welcome; paintings, drawing, craft, sculpture, digital art, photography, sketches, works in progress. You can submit up to 5 jpeg images
We invite you to submit your work by emailing up to 5 images to dettie.ellerby@exeterphoenix.org.uk with the subject line Bloom. Please include your name. You are also welcome to include any information about your images that you are happy for us to share. This could be the art work's title, what it represents to you or some information about why you made it.
The deadline for submissions is 5pm, Wed 5 May 2021.
We look forward to receiving your entries!