Bloom 2020: A virtual mental health awareness festival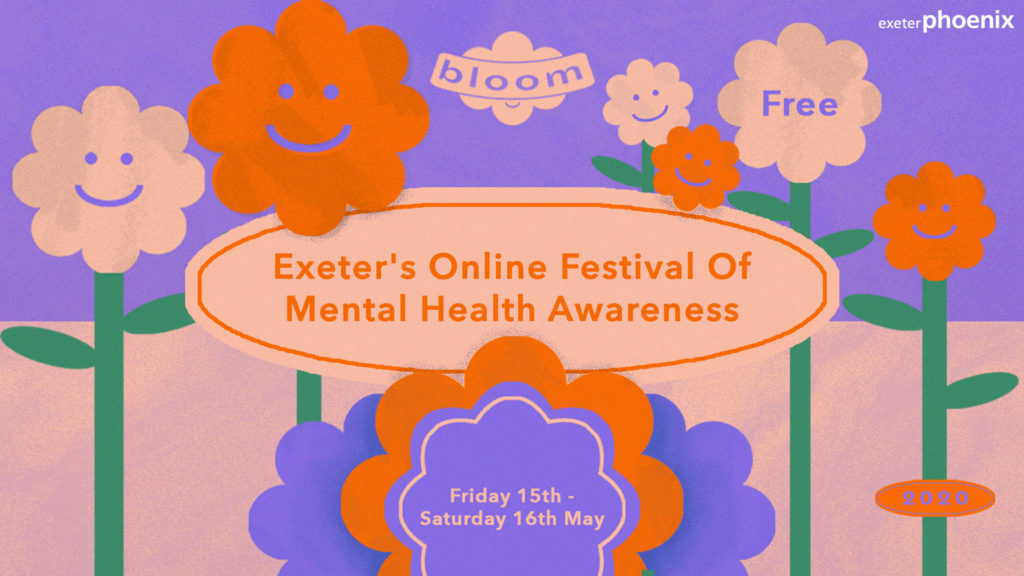 In the light on national lockdown, Exeter Phoenix moved our annual festival of Mental Health Awareness online. Bloom 2020 saw a host of virtual events to mark Mental Health Awareness Week. In the context of a global pandemic and national lockdown, Bloom felt more vital and relevant than ever. 
We would like to extend a thank you to the Elmgrant Trust and Wellcome Centre For Cultures & Environments of Health. We are very grateful for the support you provided this year to ensure that Bloom Festival could go ahead.
Festival Timetable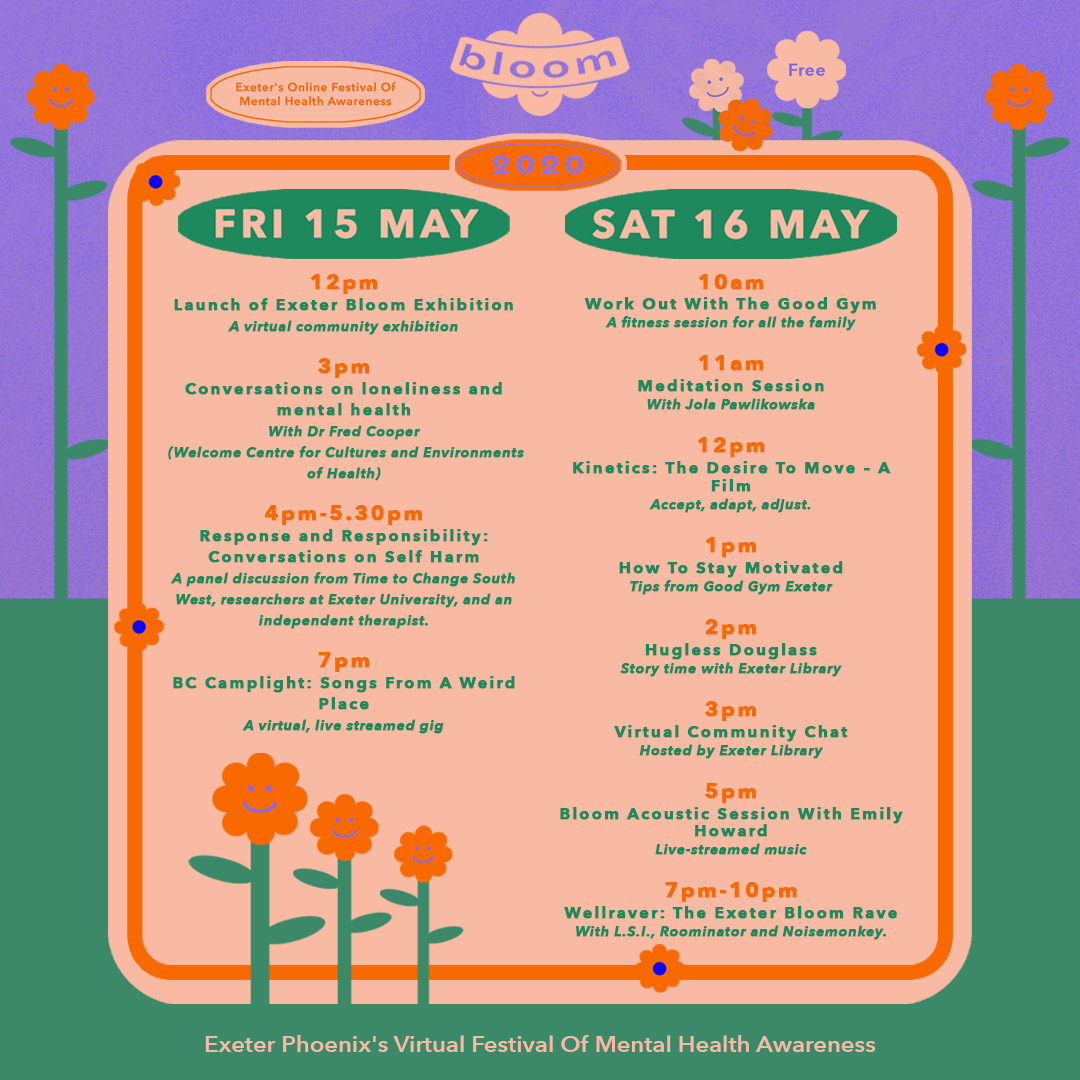 Community Projects
We felt that inviting the community to help shape Bloom 2020 was important. To this end, before the festival we invited people to submit their lockdown artwork to be included in a virtual exhibition. We had a really positive response to this, with 119 contributions from a broad range of professional artists to children's drawings. The launch of the exhibition marked the start of the festival. You can see the exhibition here. 
We also worked with Spork to create a community poem. We invited people to respond to the prompts of 'I miss…', 'I didn't expect to miss…' and 'I don't miss…' to create a poem reflecting on lockdown. You can hear Spork's Chris White perform the community poem below. 
We teamed up with the National Poetry Archive to create a collection of poetry for people to enjoy. We invited the community to submit their favourite poems into the collection, which you can see here >>
We partnered with the Exeter's YMCA, who shared our festival with their service users, and provided us with useful information and links to where to access help and support.
Festival Partners
We partnered with Wellcome Centre for Cultures and Environments of Health, hosting an online conversation about the challenges Covid-19 poses for loneliness and mental health. The session was attended by mental health service users, mental health service providers, people working with vulnerable groups in the community, and members of Exeter's wider community. The Wellcome Centre ran a second, interactive Zoom session called Response and Responsibility: Conversations on Self Harm, offering support to people who may be reaching out to friends or family to discuss issues around self harm. 
We worked with Good Gym Exeter for three sessions, including a fitness session for all the family, tips and tricks to stay motivated, and an introduction to how The Good Gym's work combines good deeds with group exercise. 
Exeter Library ran a virtual story time for children during lockdown. To coincide with Bloom, they shared Hugless Douglas, a book for children touching on mental health themes. Exeter Library also hosted a virtual community chat, offering a chance for people feeling lonely or isolated to get together in a light, pressure-free setting.
We teamed up with Time To Change's regional coordinator, Bathsheba, who hosted a conversation on young adult loneliness with Emily, a researcher at Bournemouth University. You can watch that conversation again here >>

Other Events
Musician BC Camplight, whose gig at Exeter Phoenix was cancelled due to lockdown, hosted an online gig called Songs From A Weird Place. His latest album (Shortly After Takeoff) was driven by his own ongoing battle with mental illness. You can watch BC Camplight's Bloom set again here >>
Local mental health advocate Well Raver hosted two online virtual raves, brining together music and a discussion of a personal, lived experience of mental health recovery.
We shared a free streaming of the film Kinetics, exploring how a woman kept moving after being diagnosed with Parkinson's.
Local musician Emily Howard held a free, online live-from-lockdown acoustic gig for Bloom.
Another of Exeter's local musician Chris Ostler also shared an online gig as part of the festival. You can watch the set again here.
Until next year...
The Mental Health Foundation have announced the theme for Mental Health Awareness Week 2021 will be nature and the environment. We look forward to sharing nature-themed Bloom activity with you in May 2021.
If you have any feedback, questions, or would like to get involved in Bloom 2021, please contact dettie.ellerby@exeterphoenix.org.uk