Behind The Scenes: Birdhouse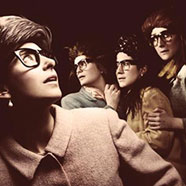 Jammy Voo's latest show, Birdhouse, is a wonderfully surreal comedy horror, inspired by Alfred Hitchcock's The Birds. Nominated for a Total Theatre Award for Innovation, Experimentation and Playing with Form, Jammy Voo's Birdhouse introduces us to the four sole survivors of the infamous bird attack in Hitchcock's iconic horror film.
Jammy Voo met whilst studying at the world famous Jacques Lecoq Theatre School in Paris. After forming in 2006, the company received Arts Council funding to create their first show Something Blue, developing their unique blend of physical theatre, sublime puppetry, arresting visuals, live music and song. They have since gone on to tour works both nationally and internationally, being met with critical acclaim along the way.
Speaking about the origin of their latest play, founding member and the company's musical director Emily Kreider said:
'In any horror film, it is certain something bad will happen. Perhaps even multiple times. Without question you are waiting and watching for the next horrific moment. You just don't know when, where or to whom it's going to happen. But it will. That is certain. In making Birdhouse we wanted to look at the anticipation of horror. What would it mean to live expecting and preparing for horror at all times? We found this notion to be hugely absurd, comic and tragic all at once. We liked that the subject of horror offered space for high drama, the surreal and the ridiculous. But there was also room for the poetic and heartbreak as well.'
Birdhouse will be performed at Exeter Phoenix on Tue 17 Nov. Find out more here >>