Arts Council Invests in Exciting New Capital Project with Exeter Phoenix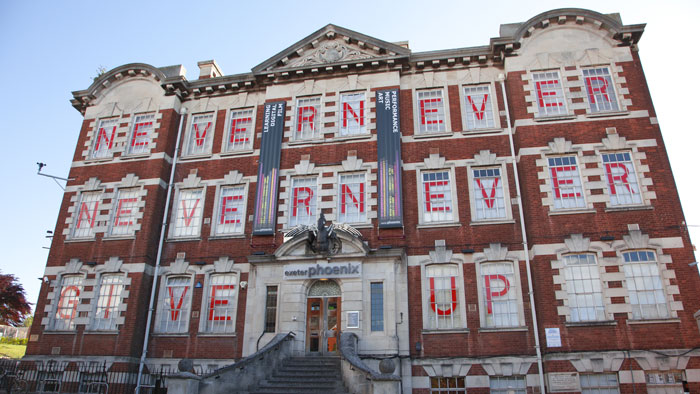 Image credit: LOWPROFILE
Our buzzing multi-disciplinary arts organisation is getting a face lift and exciting new contemporary art gallery facilities thanks to funding awarded from Arts Council England for an exciting new capital project. In addition, our crucial main funding has been extended for a further 4 years, allowing us to continue our core activity into the future.
This much-loved public space is used by up to 300,000 people every year from Devon and beyond. As well as attending nationally acclaimed live events and cinema, visitors can learn skills from painting to filmmaking and dance, see work from emerging and established contemporary artists and engage with their local arts community. Our facilities and Creative Hub initiatives provide support to some of Devon's most promising new theatre companies, musicians and artists and nurture a thriving arts scene.
This morning the Arts Council announced that Exeter Phoenix's NPO funding to sustain activity for the next 4 years would be renewed, allowing us to continue providing, and building on, this activity for the next four years. Furthermore it was announced that Exeter Phoenix would receive additional capital funding for a specific project to invest in our gallery spaces and improve visitor facilities.
The Arts Council will invest £187k towards the £244k capital project, leaving £57k to be raised from our local community and other sources including crowd-funding.
A major strand of the new project is the reconfiguration of the front interior section of the building, including a greatly improved welcome for visitors, utilising new facilities and new technologies as well as exciting and ambitious changes to our free-access gallery spaces. The exhibition spaces at Exeter Phoenix are currently one of the only contemporary non-commercial art galleries in the region and a combination of cosmetic and structural changes will not only make them fit for this purpose, but intend to significantly encourage arts attendance and artistic excellence.
In addition, the grant will kick start a project to replace ageing auditorium seating, and upgrade toilets and other communal facilities and spaces, improvements which will vastly benefit the experience for every visitor. Finally, following on from the opening of solar-powered cinema Studio 74 in 2015, further energy saving measures will be implemented in the building to continue our mission to be an arts leader on green initiatives.
During this morning's Arts Council announcements, overall funding was increased for Exeter, with national portfolio organisation funding also awarded to many of our partners and friends, including Exeter Library, Exeter Northcott, Kaleider, Exeter Council, The Bike Shed Theatre, Arts & Health Southwest and Theatre Alibi.