Artists Opportunities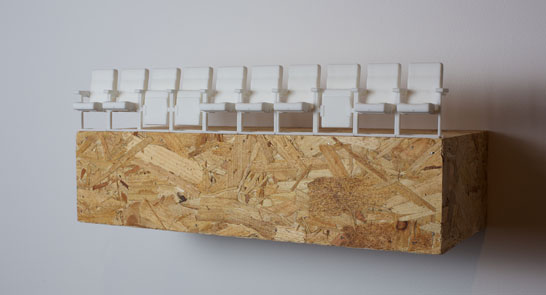 Current Artist Commissions
Our 2014 Artist Commissions are now closed.
Standpoint Futures Call-Out 2014
Applications are now invited for the 2015 Standpoint Futures Development Residency Programme.
Exeter Phoenix are pleased to be partners of this residency programme for regional UK contemporary artists (based outside Greater London), providing high calibre, tailored opportunities for discussion and interaction with the London art world.
Deadline for applications is Monday 3rd November.
Please visit http://www.standpointlondon.co.uk/residencies/index.php for more information and how to apply.
Exhibiting Opportunities
EXHIBITING OPPORTUNITY: Gallery333
TYPE: Visual art installation
DEADLINE: Ongoing
MORE INFO: Gallery333 is a dedicated space to exhibit small, contemporary art installations/interventions. It is an intimate 'window' gallery space situated in a busy location within the building, directly opposite one of our main entrances. Its dimensions are 125cm high x 74cm wide x 36cm deep and it has a secure glass door.
TO APPLY: Please email a brief outline of your proposal, a selection of relevant images or link to a website and any other supporting material.
CONTACT: art@exeterphoenix.org.uk
WEBSITE: https://www.exeterphoenix.org.uk/category/art/
EXHIBITING OPPORTUNITY: Exhibit in our Café Bar Gallery
TYPE: Visual art
DEADLINE: Ongoing
MORE INFO: Our busy café bar offers a great platform for visual artists based in the South West to exhibit and sell their work. The space is suitable for 2D artworks with maximum largest dimension of approx. 1m. We are looking for a range of contemporary practice including challenging and experimental work.
TO APPLY: Please email a brief outline of your proposal, a selection of relevant images or link to a website and any other supporting material.
CONTACT: art@exeterphoenix.org.uk
WEBSITE: https://www.exeterphoenix.org.uk/category/art/
EXHIBITING OPPORTUNITY: Exhibit in our Walkway Gallery
TYPE: Visual art
DEADLINE: Ongoing
MORE INFO: The Walkway Gallery aims to display creative projects created in, by or about the local community. The space is suitable for 2D artworks with maximum largest dimension of approx. 1m.
TO APPLY: Please email us with a brief outline of your project.
CONTACT: art@exeterphoenix.org.uk
WEBSITE: https://www.exeterphoenix.org.uk/category/art/