An Update From Our Commissioned Filmmakers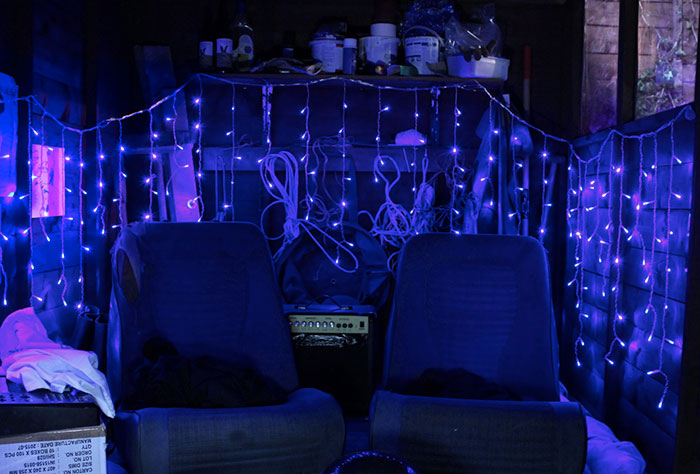 Our commissioned filmmakers have been in full swing with their film productions over the last few months, with shoots taking place locally and further afield across the UK.
Bethan Highgate-Betts has finished picking up all the last shots for her film Pink and has begun the edit process. The music is going to be a key element to the film, as Bethan reports: 'We're lucky enough to have the brilliant Tom Berge on board to create a musical score for the film, so we're working closely with him during the edit to bring 1940's Iran to life!'. You can follow Bethan's progress by checking her blog here >>
Rupert Green and Jack Oliver have been in our new Digital Workshop editing their film Nightmare of Garbhlach. Below is a sneaky peak teaser; it's definitely got us excited!
Dom Lee has filmed his micro short Rocketshed in a dismantled roofless shed. Dom has reported that the shoot went well and he has started looking through the footage. The stills are looking great and we are eager to see the first edit.
A big congratulations to University of Exeter students Timi and Hana who successfully reached their Kickstarter goal for The Search Party. They are well underway with sourcing actors and crew for their shoot in Dartmoor National Park next week. We are wishing them the best of luck and will make sure they take their waterproofs!
Simeon Costello – our documentary commission – is now safely back in Exeter after his trip across the UK via local bus services. He is now working his way through all the hours of footage and is hoping to arrange interviews with local bus services and transport groups in Devon to add further context to the film.
George Griffiths and Luke Hagan have been out interviewing for their films. Luke went to London to visit Lord of the Logo's Christophe Szpajdel. While George has been working local people who suffers of Charles Bonnet Syndrome (CBS), spending time listening to and recording their experiences.