An Interview With Quirk Theatre
Published November 18, 2022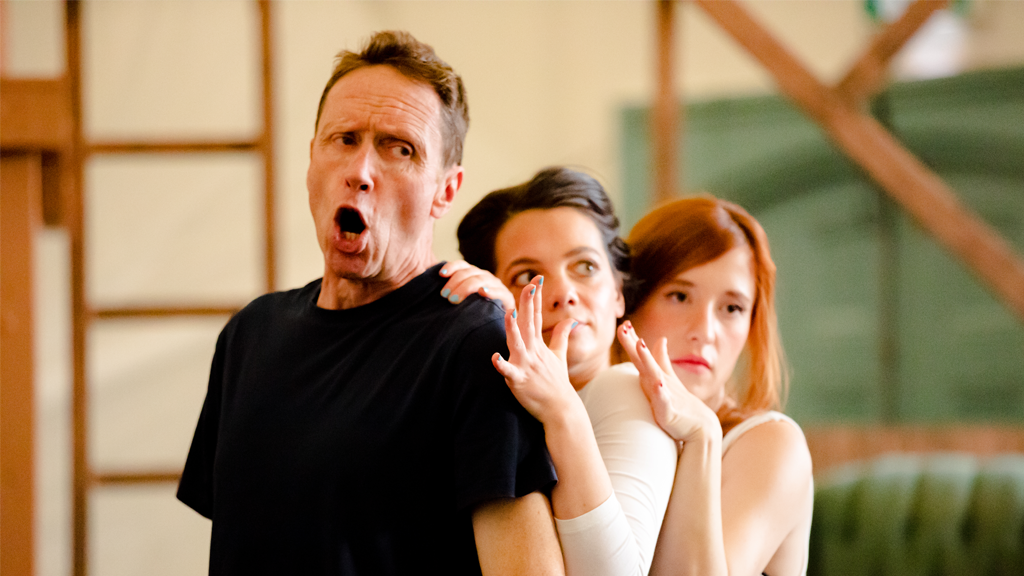 As the Christmas season is getting closer, we wanted to share an insight into this years Christmas theatre production of Mary The Pigeon by asking Quirk member Katie Villa some questions!
Firstly, please can you introduce yourself?
I'm Katie Villa and I am the artistic Director of Quirk, among other things.
And perhaps you could tell us a bit more about Quirk and what you do?
Quirk is in its 20th year, and we are delivering our 19th production (out of kilter thanks to Covid). For 20 years Quirk have been making work in Exeter with Exeter artists, south west artists, offering a meaningful alternative to pantomime. We feel passionate about telling stories that matter. Quirk started by working through the Brothers Grimm fairy tale back catalogue, but over the years we have evolved to take a few more risks artistically. More recently we've been growing the part of ourselves that makes work with a social conscience, using the opportunity to tell important, unheard stories and making original work.
2022's show is Mary the Pigeon – who was Mary and what has she done to inspire a show?
Mary was a racing pigeon. Her own er was Charlie Brewer, a shoe maker who had a loft in his attic on West Street. Charlie and Mary won a lot of races together, she was his star bird but when the Second World War broke out and there was no more pigeon racing for a time, Charlie signed Mary up to the National Pigeon Service. Mary supported the national war effort, flying top secret messages from Plymouth and London across the channel. Mary sustained a lot of war wounds – she was shot, hit by shrapnel for a bomb, and even attacked by a peregrine; but no matter what happened to her, she always got home and never gave up. She was awarded a medal for outstanding service in spite of war wounds. Each time she got home, Charlie would use his shoemaking skills to fix her wounds and nurse her back to health. He even made her a special leather neck brace. The story really stood out to Quirk – a true story with a great female lead, and a lot of space for fun. It's an important story, but it's also hilarious and offers all the good silly bits that we all deserve this year. It's also something children can connect to – they can even visit the outside of Charlie and Mary's old house.
We can always rely on Quirk to make us laugh. Is there anything else audiences can expect from the show?
There will be great flights of fantasy alongside the story. There's some really exciting characters: we have a flamingo that's trying to join the pigeon service, but you'll have to stay tuned to see if they are successful. We're also really excited that we've used the framework to draw in other stories from Exeter at that time. The most exciting part being we've cast a polish speaking actor called Ivona who will bring to life the story of the Eagle Owls – a Polish squadron based at Exeter airport during the war. This night-fighting squadron played a key role in protecting Exeter from the Blitz. Their four Beaufighters held off some of the bombers, no doubt saving many lives. The squadron gifted the city a Polish flag that is still raised each year in remembrance of their commitment and service.
So obviously this is quite an important story in Exeter's history, is there a reason why it is important to bring this story and this show to audiences right now?
The thing that resonates for us right now is the theme of home. The homing pigeons' natural instinct to get home against all odds feels like it parallels with a lot of things going on right now. With the refugee crisis and so many situations around the world, there are lots of people who are yearning for home. The show also tells the story of the Polish Eagle Owls: Polish fighters who showed commitment to a home that wasn't their own in the hope of being able to return to their own one day.
It's also a story of love and hope, which is always important and universal to tell.
And on top of all of that, it feels really important that people are able to come together this year and laugh together, and feel moved together, and enjoy all the things that we've been denied for quite a while now. We always promise our audiences a really good laugh – which we're all desperate for right now.
And there's a book?
There is! Since June we have been running workshops all around Exeter with school groups and community groups of all different kinds, creating collaged illustrations to go in the book. The book is being pulled together by Rosie Race, our ridiculously talented collage artist, who is also in the show. Rosie is a professional collage artist, but this will be her first book. She is pulling the whole thing together, seamlessly weaving the work of school and community artists into the book. The book is a beautifully illustrated retelling of the story of Mary, designed to appeal to Key Stage One and Two age children. Everyone who took part in the workshops get a free copy, and school groups who come to the show will receive a free copy for their libraries. It's available to pre-order now, and will be on sale at Bookbag in McCoy's Arcade – watch this space for the release date!
It's been an exciting new venture for us – we've told stories for 20 years but never told one in print. We've learnt a lot and, by including all those community illustrators, we have been able to demystify the process of book making for people too, making it feel more accessible. It has been a real group effort: a book for Exeter, about Exeter, made with the people of Exeter. We are so excited to see it printed!
And finally, if you were a bird, what would you be and why?
Just being a bird would be brilliant! Any bird I'd be happy with because then I could fly. I feel like I have most affinity with small bird – the little guys, like a robin, they're my favourite bird. With their little twiggy legs they look kind of impossible. Like they shouldn't exist because they're so small and fragile. But they're such a beacon of hope – a flash of colour in the winter.
You can book your tickets for a showing of Mary The Pigeon at Exeter Phoenix here.