Amanda Whittington on what makes Exeter Phoenix special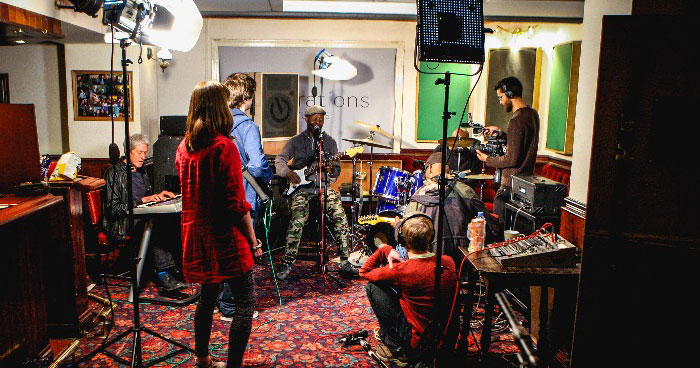 An interview with commissioned filmmaker Amanda Whittington
How did you first discover Exeter Phoenix?
When I first moved to Devon in the summer of 2011, we heard some music coming from the terrace one evening, went to listen and ended up having a bit of a dance! When researching arts centres and film and video employment opportunities online, I found out more about what Exeter Phoenix has to offer.
What's your first memory of Exeter Phoenix?
I went to meet Claire (Film Programmer) and Jonas (Digital Media Manager) to discuss opportunities and the possibility of running filmmaking/editing/camera courses – I'll never forget how friendly and cooperative they were!
What has been your favourite visit to Exeter Phoenix?
I absolutely loved running video editing courses for adults. I met some great people and enjoyed sharing my skills.
I also really enjoyed pitching my Jab Jab documentary idea at Two Short Nights, gaining a successful commission, watching it on the big screen and picking up the Audience Choice Award at Two Short Nights the following year! It was a great experience.
I also used to sing in the Global Community Choir (which was lots of fun) and have seen some great gigs!
Why is Exeter Phoenix special to you?
I found Exeter Phoenix really supportive and nurturing as a female filmmaker in Devon. I would have been pretty lost without it and gained so many creative opportunities – running courses, producing films and giving talks. The team were absolutely brilliant to work with and became great friends as well as supporting me and keeping me involved with projects and alerting me to opportunities across Devon.
If you could describe Exeter Phoenix in three words, what would they be?
Creative, Supportive, Fun!
How has Exeter Phoenix changed since you first met us?
The cinema and improved digital facilities have made it even better!
What advice would you give someone who wants to make their own films?
Have a go – filmmaking is so accessible now, you can even shoot something on your phone and edit a creative mini-work of art! If you want to take things further, go somewhere like Phoenix Exeter for some technical and creative training.
How has Exeter Phoenix helped your filmmaking journey?
Producing Jab Jab – The Biggest Band You've Never Heard Of (Exeter Phoenix documentary film commission 2015) and getting the band back together during the documentary process was one of the best experiences of my life and without Exeter Phoenix I'm pretty sure it wouldn't have happened.
I felt incredibly lucky to have the support – technical and creative – from the digital team and help in completing the film. I was also selected to produce a film for Fabian's Films with support from Exeter Phoenix about Tonga which I loved making.
Why do you think it is important for people to watch short film?
You can learn about new things, stories and gain creative ideas.
What makes film so special for you?
Film is a brilliant medium to engage people and communicate stories with. The filmmaking process encompasses many different elements that I love – meeting and working with different people and getting behind the scenes insights into different worlds, technical shooting, researching, discovering and telling new stories, using visuals and sound creatively to gain impact and then editing which is one of the most rewarding aspects of the process for me – putting the narrative together and solving the puzzle of cutting down the footage and playing with the order and editing creatively correlating visuals with sound to gain impact.
---
Find out more about our film commissions here >>
Find out more about You Make Exeter Phoenix here >>
Make a donation here >>