A New Space For Visual Art In Exeter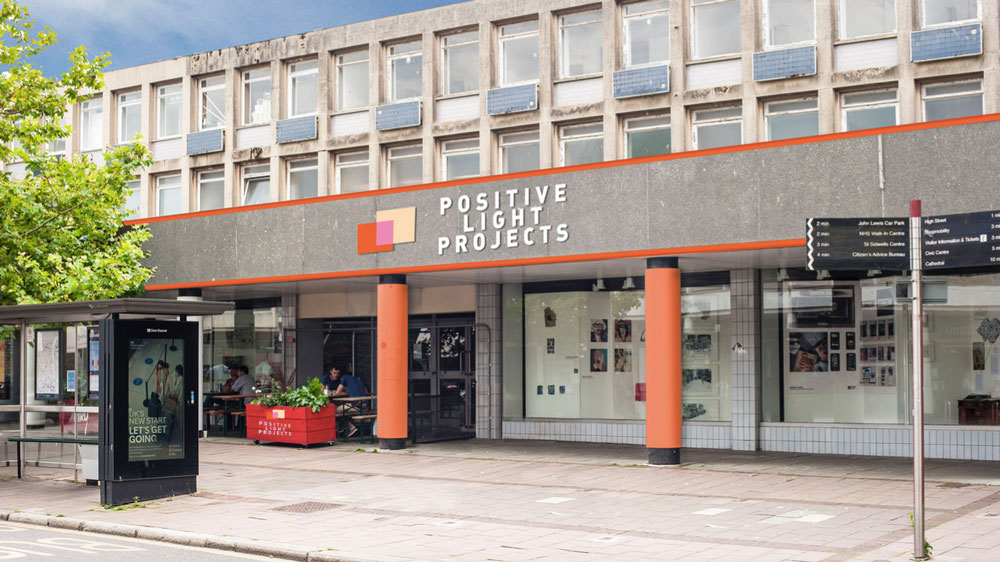 Exeter Phoenix is proud to be supporting creativity in Exeter by partnering with Positive Lights Project on an exciting new venture in the city centre.
Positive Light Projects is a not for profit organisation using photography to engage and inspire a diverse range of audiences and communities as well as developing emerging practitioners and aiding them move their practice forward in exciting and innovative ways. Based in Exeter, Devon, they have a focus on and strong belief in community based, socially engaged creative practise.
Today the team behind the Positive Lights Project have launched a Crowdfunder. They are seeking to raise funds for the development of a creative and cultural working and teaching space, with a focus on community engagement and collaborative practice in a disused retail unit on Sidwell Street in Exeter. The intention is to build a creative visual arts hub that operates to support various communities within Exeter and beyond.
The space will provide:
6 x Artist Studios - Space for creatives to make work and develop personal projects.
Project Space - Large street level accessible communal space that workshops and classes can be run in.
Gallery - Displaying artwork, both group and individual shows.
Darkroom - Range of enlargers and equipment for processing and printing work.
Photography Studio - Professional studio lighting and backdrops.
Library - Books, journals and periodicals for reference and research.
Meeting Space - Space for creatives to meet & discuss thoughts, plans, projects & proposals.
Resident charities & organisations - Office and studio space for local groups.
Study Space - Quiet space for individual study.
What Is Planned For The Space
Before work can start on activating the space, the building needs to be made safe and accessible. The money raised through this Crowdfunder will go towards essential electrical and plumbing works, ensuring wheelchair access and the installation of an accessible toilet, renovation of communal work spaces and artist studios, cleaning, painting and decorating, fire safety precautions and a heating system, all to make the building safe, warm and accessible for all.
In the future, the plans are to use the space for:
Workshops - A variety of both contemporary and traditional technical and contextual approaches to photography and the visual arts.
Courses - Extended programmes delivery key skills to developing and emerging practitioners.
Talks - Internationally recognised artists presenting their work and professional practice.
Symposiums - Themed days of talks and discussions exploring a range of concepts within and approaches to photography and related creative mediums.
Exhibitions - High quality projects from both high profile and emerging artists presenting their work from a variety of contexts as well as showcasing community based art works.
Residencies - Keeping the space vibrant and active by having practitioners producing work within the space.
Commissions - Provide funded opportunities for new work to be produced.
Exeter Phoenix is proud to be supporting this new activity in the city. If you are in a position to, please consider pledging your support to the project's Crowdfunder.