A New Devon Theatre Collaboration Responds to the banning of Gay Pride in Moscow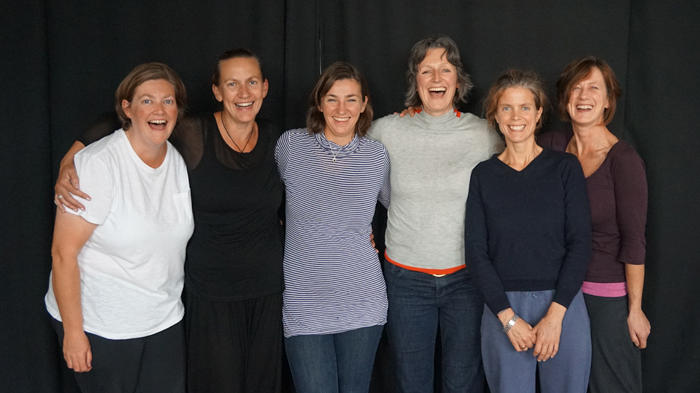 A response to the banning in 2012 of Gay Pride in Moscow for 100 years, We'll Meet In Moscow comes to the stage of Exeter Phoenix on Mon 16 Nov.
Exploring hope, the distances we travel, and the lengths we might go to when falling in love, the piece is the culmination of a new theatre collaboration between Writer Natalie McGrath (Oxygen, Coasting), Choreographer Jane Mason (Life Forces, Singer), Designer Sophia Clist (Oxygen, The World At Your Feet) and Director Nicola Rosewarne (The Enchanted Palace, Third Light).
We took the time to speak with each of the creatives who have contributed to this collaboration to find out what they think of the project, the part they played in the artistic process and why they think YOU ought to come and see it.
From left to right: Natalie McGrath, Nicola Rosewarne, Belinda Chapman, Sophie Clist, Jane Mason, Michelle Ridings
NATALIE MCGRATH – WRITER
We'll Meet In Moscow is a Devon based arts project, with a performance making engine at its heart of the same name, connecting to and celebrating LGBTQ stories, whilst responding to Gay Pride being banned in 2012 in Moscow as its original provocation.
The project started with me registering my shock at the fact that Moscow's authorities had banned Gay Pride for 100 years, I wondered what that was about, and whether there was a way of responding to this through performance work/artistic activity, then the legislation in Russia making the lives of LGBTQ individuals more difficult began to emerge, so I invited others to join me in this exploration with a period of research and development that was funded by Arts Council last year, now we are here in the second stage of the project (also funded by ACE) making that performance work and supporting wider participation across Devon.
I guess there is real value for me in sharing stories and exploring lives onstage that aren't often represented or made visible, and in this instance, we are telling a love story between two women, as the catalyst tapping into a deeper vein of what is happening in terms of prejudice and the difficulties that arise when life becomes dangerous because of your sexuality or difference.
NICOLA ROSEWARNE – DIRECTOR
This piece is designed to tell a beautiful love story between two women that spans one hundred years.
I'm engaged in working with the creative team to explore the content and shape the work from a theatre perspective.
The work will be beautiful and challenging. This sharing is a step on our journey towards making a complete work and we deeply value our audience responses to it.
JANE MASON – CHOREOGRAPHER
We'll Meet In Moscow portrays the difficulty of love between two women, set in a changing sculptural landscape of white. The global reality of sustained persecution, hatred and intolerance by some people towards the LGBTQ community is absolutely sickening, and we feel people should know about it.  The aim with the performance, which is one strand of a wider participation project, was not to comment in a documentary style way about the issues explored during our research, we wanted to concentrate on a poetic telling of a love story between two women, coloured by the intense atmosphere of fear that often shrouds homosexual people's experience of love in Russia. At its heart this is really a story about love and fear and hope between two people in a place where they are unable to love freely.
I work primarily with the body, with an interest in foregrounding the body's expression and language. As a choreographer working in a range of collaborative contexts with a strong interest in interdisciplinary performance, I see my role concerned with a broader notion of choreography. Looking at how movement, spoken text and relationships to cloth and space can interweave and combine successfully. During the Research and Development phases our various roles overlapped as we worked to increase our understanding of a shared language and form.
SOPHIA CLIST – DESIGNER
This performance is made up of reflections from and about two women in love, a love that is not allowed, expressing the fear, the courage and the hope.
In  my role as the designer, I have introduced a material and object which can transform to tell a story in an abstract or literal way.
I hope that the people who choose to see this get an understanding of how dangerous it is to be gay in Russia, that people are being persecuted for their love.
BELINDA CHAPMAN – PERFORMER
To investigate how to find an accessible language, between the artists involved, to portray the lives that are affected by Russia's harsh banning of gay pride and freedom of the gay community being able to freely to love one another. With this piece, we're aiming for wider arena of people to have an understanding, acknowledgement and awareness of the effect this situation has on human beings, that have to put them selves in danger just to be 'themselves'.
I am performing in the piece. Because of the way the process is set up – as a collaboration – I am able to offer my views, ideas and honesty as to how I feel and what I feel works / doesn't work.
MICHELLE RIDINGS – PERFORMER
We'll Meet in Moscow shows how the force of love between two women can survive in a climate of fear… in a land where people can disappear simply because of who they love.
As a performer relatively new to the collaboration, I feel my role so far has been to absorb and respond to the material presented to me, find the connections, discover the physical and emotional language to embody the work and bring it into life, finding the games, the relationships, energies, textures, inhabiting landscapes.
Audiences will be invited to look into the interior worlds of two women and recognise that we do not choose who we love. Love is a force which chooses us. It is blind, desperate and tender. It is expansive and full of joy. How would it feel to have to risk your life for who you love?
We'll Meet In Moscow comes to Exeter Phoenix on Mon 16 Nov at 8pm. Tickets available here >>