Comments Off

on Fill Your Autumn with Theatre
With Summer behind us and those cooler Autumn evenings sweeping in, we have some treats in store for you in our Autumn performance programme – and an offer to make sure you don't miss a moment.
Over the next two weeks, three women share their stories in three very different autobiographical pieces. Different in style, but each with moving and empowering human stories at their hearts, and creative theatre makers at their helms.
OFFER: Book 3x Shows @£12 each* and save £2 per ticket.
Concession rate of £10* is also available on all shows.
*Subject to a £1.50 ticketing system charge. We don't charge this to make a profit. Find out more >>
CUTTING OUT – Sun 26 Sept, 7:30pm
Part performance, part installation, part collective act of resistance – Cutting Out tells Viv's one in eleven-million story. The story of Viv's hands (from abuse to activism) happens in a co-created installation of paper dolls holding hands in solidarity bearing witness to 11 million adult UK survivors of Child Sex Abuse.

"It really bothers me that there's no cultural space for survivors or any sort of public witnessing. And then I was thinking, 'I want to cut out chains of paper dolls, one for each survivor.' Then I got the calculator out and realised that that would take me several lifetimes to do. And that was my starting point to involve audiences in a campaign to make 11 million paper dolls." – Creator and Performer Viv Gordon

Audiences will be given the opportunity to help Viv cut out paper dolls before and after the show. This is your opportunity to bear witness and to contribute to an installation that is growing bigger with every tour venue.
Artistic Director, Viv Gordon has a strong track record as a theatre maker, arts/mental health campaigner & survivor-activist grounded in her lived experience of Child Sexual Abuse. ​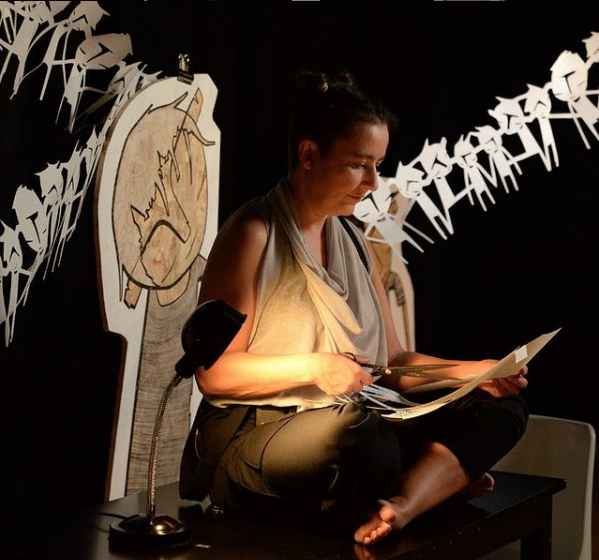 Emma Baskeyfied's (Theatre Maker & Puppeteer of The Goat Show) new autobiographical show Cut Out is inspired by classic westerns using visual storytelling, multi-operator puppetry and cowboy stories to examine the complexity of family life & explore what happens when resolution is not as easy as a shootout and riding off into the sunset. Yee-Haw.
There's trouble out on the ranch… The wild west is a hostile, lonely place – rife with injustice and driven by the need to control.
What do you do when someone tries to build a railroad through your family?
Can you slam a saloon door in your dad's face?
Can a cowboy save you from self destruction?
And why can't it be as simple as a good ol' line dance?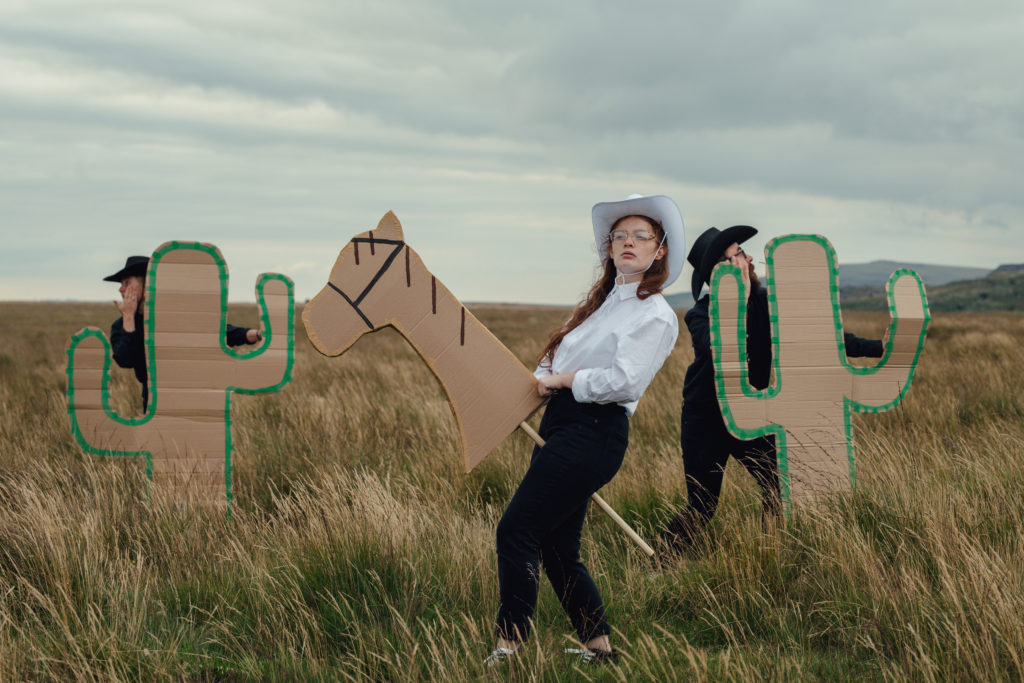 DESTINY – Sun 3 Oct, 7:30pm
Written and Performed by Florence Espeut-Nickless and directed by Jesse Jones.
This semi-autobiographical monologue follows the story of a teenage girl growing up on a rural Wiltshire council estate. After a big night out takes a turn for the worst, Destiny's life spirals out of control as she desperately tries to learn how to love and be loved. Born below the breadline, she's desperate to see beyond the neighbourhood and find hope in hopelessness.
"They're sayin I brought it on myself. Oh yeah, they've heard about me. Basically it must've been my fault cause I'm me, Destiny"
DESTINY is a recipient of The Pleasance's Edinburgh National Partnerships Award (in partnership with Bristol Old Vic Ferment) and was shortlisted for Theatre West's Write On Women Award.
It has been developed with support from Tobacco Factory Theatres, Bristol Old Vic Ferment, Pound Arts, Strike a Light, Wiltshire Creative, Natural Theatre, Paper Arts, Theatre Bristol, Hawkwood College, Arts Council England and Gane Trust.
Florence Espeut-Nickless is the Writer in Residence at Pentabus Theatre, an Open Session Writer at the Bristol Old Vic and an associate artist at Strike a Light, as part of the Let Artists Be Artists programme.