Apply for Exeter Phoenix Scratch Night: 10th Oct 2023
Published December 12, 2022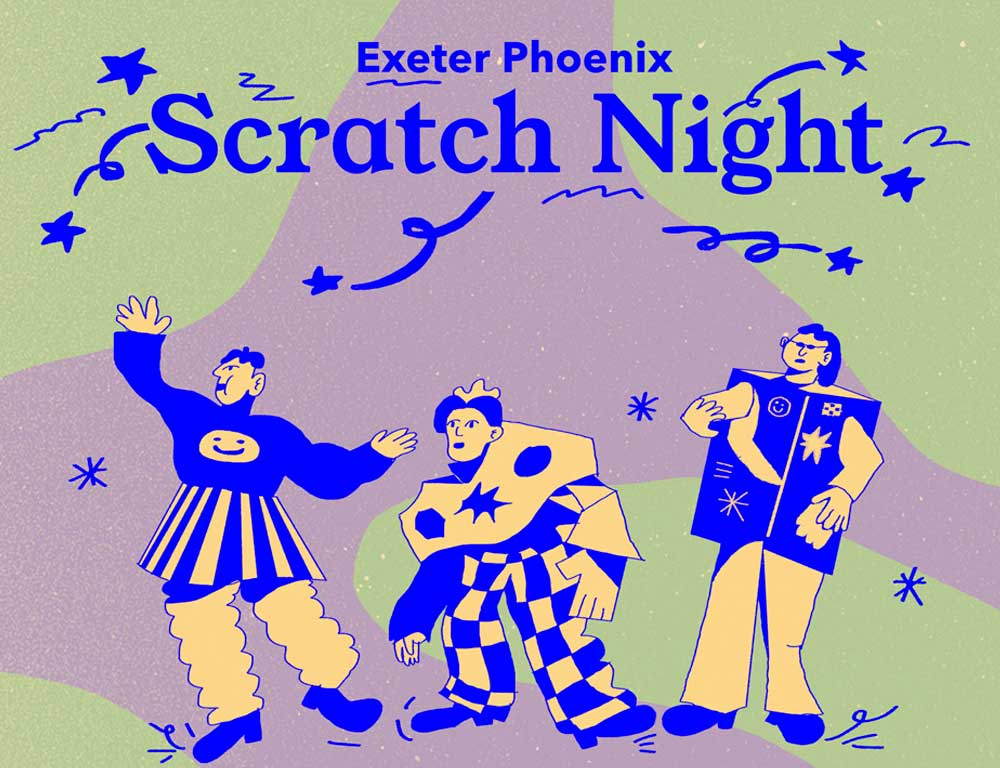 Deadline for Applications: 5pm, 15th September 
Got an idea that needs a platform? Exeter Phoenix Scratch Night offers artists in need of an audience a chance to stretch their ideas and the opportunity to test their work in the Phoenix Auditorium, along with £150 to help develop their idea and a small amount of rehearsal space before the Scratch Night.
Following the success of our Scratch Nights in 2022 , which has offered artists to test their earliest ideas in a low stakes environment, we'd like to offer artists the opportunity to take their new ideas a little bit further. In 2023 we will be delivering 3 x Scratch Night's, the last of which will taking place on 10th October. Successful applicants will receive rehearsal space, the opportunity to perform their work in front of an audience and £150 to support their practice - which they can use however supports them best.
Whether you're currently working on a show and there's a new bit you'd like to get in front of an audience, or you're looking to try something brand new for the first time – we'd like to invite you to apply to SCRATCH NIGHT, an opportunity to test up to 20 minutes of live work.
SCRATCH NIGHT will take place on 10th October in the main auditorium, from 7.30pm - 9.30pm.

Applications close at 5pm on 15th September and we will let you know if you have been successful the following week. You must be available for a technical rehearsal slot during the afternoon / early evening on Tuesday 10th October and for the SCRATCH NIGHT in the evening.  
What you'll get: 
£150 to support your practice. This can be used however you'd like, and you don't need to use it for this project. If you need to take a day off from work to rehearse, you'd like to buy some props or pay someone to help you out - that money is yours and has absolutely no strings attached.
Rehearsal Space Use rehearsal space at Exeter Phoenix in the weeks leading up to SCRATCH NIGHT. We're not putting a time limit on this, but it will be subject to availability. 

Tech time and performance The SCRATCH NIGHT sharing will take place in the Exeter Phoenix auditorium, which is fully equipped with lighting, sound and a projector. Everyone will get an hour of tech time prior to the performance. Full tech spec of the auditorium available upon request.
Please get in contact on scratch.night@exeterphoenix.org.uk if you have any questions.