Saturday Mornings & Sexual Ambiguity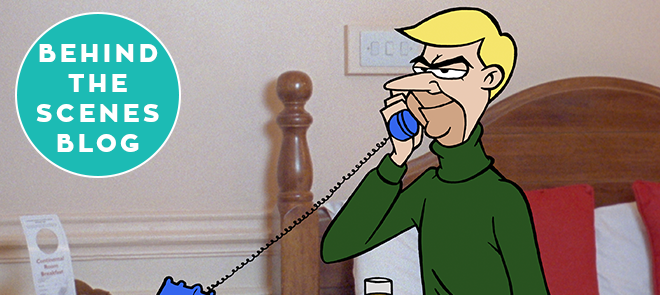 ---
A Behind The Scenes Statement From Doozy's Director Richard Squires
Richard Squires is a London-based visual artist and academic who works predominantly with film, drawing and animation. His work is shown internationally in galleries, broadcast and at film festivals. He shares with us some insights into how Doozy came about ahead of our screening on Tue 30 Apr.
---
Growing up in the UK in the 1970s, Hanna-Barbera cartoons were my Saturday morning essential viewing. The characters I prized most were the villains; sneaky men with exaggerated features who tiptoed across the screen, masterminding evil plans that sought to profit from or avenge the regular characters. The crazy laughter of these scoundrels was a palpable expression of their wickedness; a signifier of their mental derangement and at times their laughter reverberated with a sexual ambiguity that only made them more fascinating to me. Consider Cesar Romero who imbued the Joker, in the 1960s Batman TV series, with a persistent, demonic cackle that resonated with camp sensibility. Or Robert Helpmann who portrayed the Child Catcher in the 1968 musical Chitty Chitty Bang Bang with his maniacal laughter and dainty jig.
I became aware of the actor Paul Lynde through his occasional appearances on exported American sitcoms such as Bewitched or The Munsters. Lynde had originally gained notoriety in musicals and as a character actor in U.S. television shows. He wanted to be a leading man and complained of being continually typecast in supporting roles as the snarky persona he had created. By the late 1960s, he was a TV regular on the game show Hollywood Squares but, as his career faltered, his alcoholic escapades led to a string of public arrests.
A frequently under-appreciated aspect of Lynde's work was his voicing of a series of cartoon villains for the Hanna-Barbera studios in the late 1960s. He animated the Hooded Claw, Mildew Wolf and Claude Pertwee with astounding facility and charisma, exploiting his existing TV persona and using his persona to insinuate affiliation to some hidden world whose depravity normal folks could only imagine. The studio's wily casting of Lynde exposes the blurred line between actor and character identities and points to the entangled histories of representations of sexual ambiguity and criminality.
Exploring this obscured history of Lynde's casting as the cartoon villains, DOOZY consults a panel of specialists on animation, voice, masculinity and criminality; visits Lynde's hometown of Mount Vernon, Ohio where the actor is fondly remembered by locals and employs its own cartoon villain by the name of 'Clovis'.
---
You can find out more about our screening of Doozy on Tue 30 Apr here >>
After the screening director Richard Squires will be in conversation with Dr Benedict Morrison, whose current research explores Queer cinema and television and the relationship between film form and character expression.