Nikki Sved on 'What Makes Exeter Phoenix'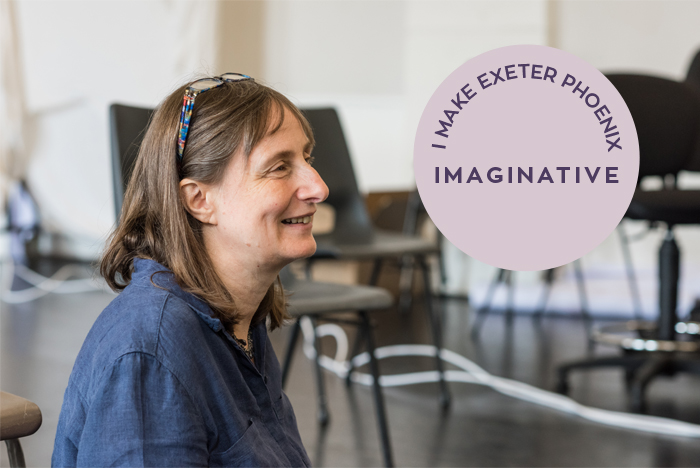 Nikki Sved on What Makes Exeter Phoenix
Last month we launched You Make Exeter Phoenix, an appeal to raise £60,000 for major refurbishments to our beautiful building.
Since then we've been talking to some of the people who make Exeter Phoenix thrive. Nikki Sved is the Artistic Director of beloved storytelling troupe Theatre Alibi, a company who have been delighting children and adults from the stage of Exeter Phoenix for decades.
This year, they celebrate their 35th anniversary with a unique production, which comes to Exeter Phoenix for a single weekend in November. Perfect for all the family, Apple John tells a playful but powerful story of intertwining lives, without a single word uttered on stage.
What's your favourite bit of the building?
That comfy corner with sofas, just outside the auditorium. I've spent lots of time there talking about great performances I've just seen, or with butterflies in my stomach just before the opening of a new Theatre Alibi show!

What's your first memory of Exeter Phoenix?
I remember way back, visiting Exeter Arts Centre as it was then! But I also have a very strong memory of the day that the building was reborn as the Phoenix. I went to the opening with my daughter, who was a toddler (and is now 20!) and held her up, thrilled and just a little bit scared, to look at the fabulous phoenix over the front door as it opened it's magnificent wings for the first time.

Apart from with Theatre Alibi, when else have you visited Exeter Phoenix?
Too many times to count!! I've seen exhibitions, watched theatre performances, been to gigs, eaten with friends, taken my children to workshops…The list goes on. I feel very lucky that you are here.

How did you get into working in the arts?
I was one of those children who always wanted to be an actor – I hope I wasn't too irritating… I loved theatre. I was lucky enough to study Drama here at Exeter University, where I first had the opportunity to direct and get my head around becoming a theatre-maker. I then worked as an actor (for Theatre Alibi, in fact, as well as Theatr Clwyd and others) before being given the chance to direct.

Which Theatre Alibi show are you most proud of?
Oh dear, this is hard! There have been many shows over the years, where I've felt so proud of us all – Little White Lies when we were just taking our first steps towards understanding the power of telling stories to adult audiences; Why the Whales Came, which we took to the West End and was so wonderfully received; Teapot, a show which still makes my heart swell if I catch a recording of the little cat, Blinky, valiantly leaping over a white parasol moon as cello music soars… But, funnily enough, I'm incredibly proud of our current show, Apple John. It felt like such an exciting , but scary leap in the dark to make a show completely without words, but it's been an absolute revelation, seeing such a vivid and moving show emerge. I feel incredibly proud of the whole team.
Theatre Alibi return to Exeter Phoenix this November with Apple John.
Find out more and book here >>
You Make Exeter Phoenix is a fundraising appeal to raise £60,000 for major refurbishments to this beautiful building!
Find out more and donate here>>