EXETER FRINGE FESTIVAL – WHAT NEXT? R&D SHARING
Published October 17, 2022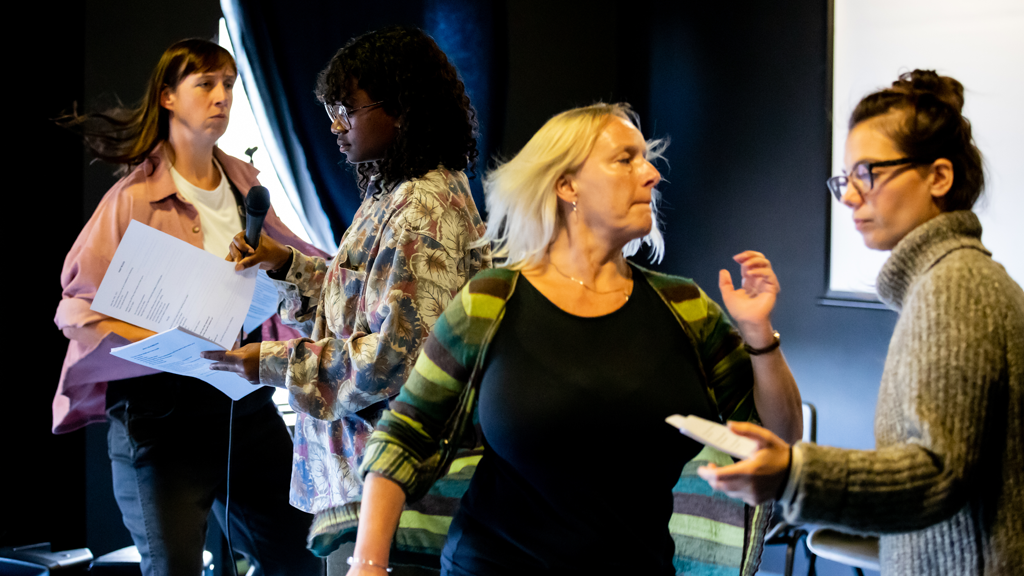 The artists for our Exeter Fringe Festival - What Next? R&D have settled into their venues today for a busy week of exploration & experimentation, ready for our sharing day on Sunday 23rd Oct in the main auditorium. 
Having relaunched Exeter Fringe Festival in 2019, Alex & Elaine have recently decided to step away from running future festivals. With so many Devon-based artists and companies looking for the kind of development and performance opportunities that the Fringe had started to offer, a group of Exeter-based arts organisations has come together to make a smaller Fringe event happen this year, and to host a gathering, open to anyone involved or interested in theatre and performance in Exeter, to discuss the future of the Exeter Fringe and what we can do to continue to support performance artists based in the city.
"In light of the Exeter Fringe announcement, we wanted to make sure that there was still an opportunity for Exeter-based artists to create and share their work, and so partners across the City came together to provide a week's worth of rehearsal space. The event on 23rd October is an exciting opportunity to see 9 new ideas come to life, followed by a discussion hosted by Performance in Exeter on what should happen next for the Exeter Fringe."
Helen Bovey (Talent Development Producer, Exeter Northcott Theatre) & Naomi Turner (Performance Programmer, Exeter Phoenix)
To launch the week we've asked the artists to share a bit about what they're going to be working on:
SHARING #1 (11am)
Restless Theatre (Theatre Alibi)
Title: Monstrous Love Revisited
Using a mix of collaged classical texts and autobiographical new writing Restless Theatre are exploring new ways to question abusive behaviour through focussing on the agency of the survivors within these narratives.
Jeremy Holloway (Cygnet Theatre)
Whether you suffer from body dysmorphism, dyslexia and /or depression is often a lottery. How do you react if your ball is drawn?
Ricochet Theatre (Kaleider)
Ricochet Theatre are investigating instances throughout history where stories, whether they are real or fictional, are repurposed by modern authors to fit their own ideology. We are interested in questions of authorship, ownership, and what it means to reclaim a story.
The Yoko Situation (Exeter Phoenix)
'Teddy Midnight' is a new dramedy play by The Yoko Situation - a love story from the perspective of a so-called manic pixie dream girl. The story explores how society, cishet men, and even neurodivergent women themselves cultivate this trope and the magic mirrors of navigating a relationship defined by it. The Yoko Situation is a new art collective led by writer/director Penn Balint (a veteran of bright hair and dating shy men), focusing on trans- and disabled narratives.
Owl On The Roof Theatre (Exeter College)
The Children of Lir is a dark fairy story from Celtic folk law. It tells the story of an adoptive mother who transforms her four new children into swans.
The magic of the original story is replaced with surrealism and elements of horror as the old house they are staying in comes to life with the will of the new mother figure, and her deceased sister.
The clutter and mess of old memories needs tidying away before the house can be sold, but the house seems to respond to Aoife. Acting on her subconscious, the house responds when the children act up or push her away, beginning to steal them away one by one."
SHARING #2 (2pm)
Break The Glass (Exeter Northcott Theatre)
40 Elephants is a piece of actor-musician theatre. Set in a 1920s Music Hall, the troupe of performers dramatize the true stories of The 40 Elephants, Britain's first female crime syndicate. Focusing on the rise and fall of Alice Diamond the gang's longest running leader, and her second in command Maggie Hughes; the piece explores the struggles of women born into poverty in the early 20th century and the dangerous methods they took to escape.
Excessive Human Collective (Maketank)
Discopia 'How did you go bankrupt?' Bill asked. 'Two ways,' Mike said. 'Gradually and then suddenly.' Ernest Hemingway, The Sun Also Rises. 
A performer finds herself in a desolate landscape littered with digital waste. She learns to communicate through the creation, repetition, and distortion of sound and movement. Found sounds are recorded and translated, the sound of a car is transformed into an echo of waves - this is their only connection to a world which once was. Can they use the technology which ultimately destroyed them to rebuild a better world? Responding to our acceleration towards ecological breakdown, and the reimagining of net zero futures we will examine what labour might look like in a post- work world, how value might be defined when money becomes valueless and where people will invest their most treasured currency - time. This is a new dance theatre work created by Excessive Human Collective with original music by Devon Bonelli and The Larisa Trio. 
This R&D week will be used to develop the projection and a solo excerpt of the work, which can be toured separately when it is not possible to tour the full length version.
Aimee Sweet (Exeter Library)
'KNOTS' is a piece of new writing exploring female friendship and identity. It is a two-person play that fuses gig theatre, spoken word and physical theatre to examine a fiercely intimate and layered friendship.
South West Dance Hub (The Hall)
South West Dance will collaborate on R & D exploring 3 original multi-art form works involving costume, projection, voice and gesture, which have dance and movement at the core. We are exploring themes around ambiguity and hidden meanings, loss and social movement.
After the sharings, there'll be an opportunity to network and we're delighted that Performance-in-Exeter (PiE) will also be hosting an open conversation style discussion at 4pm on the future of Exeter Fringe and theatre-making within the city & surrounding areas, to finish off the day. 
You can book your free tickets for Sun 23rd here.