This event has passed.
You Sit There
Katherine Hall
Category
Book Now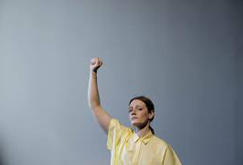 You Sit There
*Subject to a £1 ticketing system charge. We don't charge this to make a profit. Find out more >>
Photo by Matthew Cawrey
Katherine Hall
You Sit There
Looks with satisfaction, gusts of affirmation. Awkward stumbling, attempting the hero, just getting there. Nodding in agreement, nodding in sympathy, nodding in hopefulness, nodding in assurance, nodding in distress. Being nodded. Pretending not to be nodded. Taking a moment. Giving a hand. Working with invisible tasks and weight and bodies. It takes time. But it's fine, it's ok. We can share the weight.
You Sit There is a celebration of the ambiguities, joys and tensions that exist in the attempt to give and receive care in a society that continues to devalue such labour.
Through time, through extrapolation, a splayed hand, guiding, Katherine invites you to think about care as a physical offering that we are all playing a part in.
---
Choreographed and performed by Katherine Hall
Outside eye – Jo Bannon
Sound design – Yas Clarke
Choreographic mentoring – Jo Fong
Lighting & stage design – Jenni Pystynen
Costume design – Jade Leigh-Webb
Producing support by Emily Williams
Created with support from Arts Council England, Theatre Bristol, Interval, Attenborough Arts Centre, Arnolfini and Dance4.
Venue: Exeter Phoenix Auditorium