Unpacked Workshops At Exeter Library
Tue 11 Apr 5200 - Thu 01 Jan 1970
Category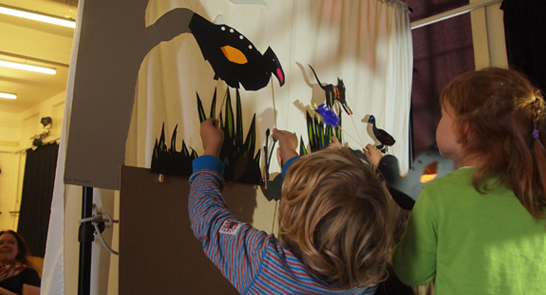 Unpacked Workshops At Exeter Library
*A note on transaction fees
A small £1.50 fee is added to each transaction. This covers the cost of getting your tickets booked, that's everything from the booking software to card charges. We don't charge this to make a profit.
PaddleBoat Theatre Company have packed a very big suitcase full of exciting theatre shows and creative workshops for all the family to enjoy this summer. On this page, you'll find all of the workshops taking place at Exeter Library.
Find out more about what's on during Unpacked Family Theatre Festival here >>
Forged Line Dance Company
Dance Workshop
Tue 1 Aug | 2pm | £4* | 6+
Ever danced with a dinosaur or boogied with a robot from the distant future? Jump aboard the time machine in this action-packed dance workshop, taking you on a whirlwind adventure through time and space.

Soap Soup Theatre
Puppet Making Workshop

Wed 2 Aug | 2pm | £4* | 5+
Learn how to make puppets from Soap Soup Theatre's Tomasin Cuthbert – a clever and effective way of getting creative with your kids, just using household bits and bobs.
Willow Puppet Workshop
Thu 3 Aug | 10am | £4 |6+
Came and weave willow into beautiful mini puppets that you can take home! Learn this ancient craft and get to see how some of the props have been made in PaddleBoat Theatre Company's brand new show Rustle.
Poco Drom
Animal Sing-Along
Thu 3 Aug | 2pm | free non-ticketed
With animal ears, a tail, an acoustic guitar and a paw full of original animal songs for kids AND their adults Poco Drom will rock your wild and wonderful world with much wriggling, hopping, squeaking, waddling and ROARING! Learn of the dangers of flying elephants, discover your inner squirrel as you shout 'NUTS' with gusto and ride into the sunset on your imaginary horse!
Above Bounds Theatre Collective
Staging adaptions workshop
Fri 4 Aug | 10am | £4* | 4-7yrs
Ever wanted to turn your favourite story into a play? Above Bounds invite you to join them in an exciting storytelling workshop inspired by Hans Christian Anderson fairytales. Whether you are a budding performer or a book worm, this workshop will help you lift the words off the page.
Sharp Teeth Theatre
Storytelling Workshop
Fri 4 Aug | 2pm | £4 | 7-12yrs
Meg and Steph collect stories. Big, small, fat, thin, strange and silly tales.
They've been going through their collection and found some stories that they'd like to share with you. Get ready for epic adventures, terrifying magic, and beautiful music!
Venue: Exeter Library