This event has passed.
The Staves
Category
Other Information
SORRY, SOLD OUT!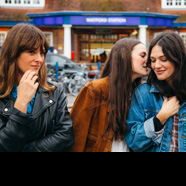 The Staves
*Please note that there is a £1.50 fee per transaction
The Staves
Support from Flo Morrissey
Emily, Jessica, and Camilla Staveley-Taylor have been making music together since they were children, growing up in Watford, UK, England. Brought up in a house that echoed to the sounds of Simon & Garfunkel, Crosby, Stills & Nash and The Beatles, singing in perfect 3-part harmony came naturally to these three sisters. Having started gigging in local pubs and cafes, The Staves are now captivating audiences on much bigger stages – earning rapturous encores with their exquisite songs of love & longing. Guaranteed to give you goosebumps, their extraordinary intertwining voices melt the most cynical of hearts. The Staves' Mexico EP will be released later this year via Atlantic Records.
Flo Morrissey
Flo Morrissey is an 18 year old singer and songwriter from London, UK signed to Glassnote. Her debut album will be released in 2015.
VENUE: EXETER PHOENIX AUDITORIUM