This event has passed.
The Rising
HeatherWalrondCompany
Category
Book Now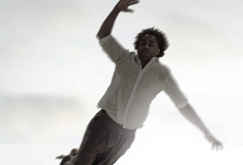 The Rising
*A note on transaction fees
A small £1.50 fee is added to each transaction. This covers the cost of getting your tickets booked, that's everything from the booking software to card charges. We don't charge this to make a profit.
HeatherWalrondCompany
The Rising
+ Q&A With Dance In Devon
The Rising is an empowering, highly charged evening of dance and live music.
The show is inspired by Fijian dance and culture from Heather's time working in Fiji with Vou Dance Company.
It explores what it means to feel alive and empowered, drawing from ideas of vulnerability, surrender and our embodied sense of community.
Live music originally composed and played by multi award winning musicians, Will McNicol and Luke Selby.
THE COMPANY
HeatherWalrondCompany is a British professional dance company based in Devon. It is supported by Arts Council England and lead by Choreographer & Artistic Director Heather Walrond. Her work is highly acclaimed by audiences around the South West receiving consistent standing ovations and sold out audiences. The company's main interest is in the collaboration between different cultures from around the world and using live music and dance within the choreography, to bring the performance's alive and empower audiences.
Q&A
The performance will be followed by a Q&A with Dance In Devon, led by Sue Smith.
'Heather Walrond is a new choreographer of rare talent. Her first work, 'The Rising', taps into a common sense of the joy of movement and of community and is so life affirming and uplifting that it can appeal to everybody. Choreographically it is full of nuance, flow and beautifully judged shifts in dynamic. Experienced dance audiences and the general public alike rose to their feet at the end of 'The Rising', when performed at Pavilion Dance. It does that to you.'
DERYCK NEWLAND, ARTISTIC DIRECTOR OF PAVILION DANCE SOUTH WEST.
'The contemporary folk feel of Heather Walrond's The Rising is infectious'
DONALD HUTERA, THE TIMES
'WOW, what an amazing performance. I am inspired, awestruck, a bit tearful and hugely joyful. Thank you for such a stunning evening!'
AUDIENCE MEMBER
'On the edge of my seat the whole time. Superb. Outstanding. Superlatives galore.'
AUDIENCE MEMBER
Funded and supported by:
Arts Council England, Gane Trust, Devon Educational Trust, Plymouth Culture, Plymouth University, Plymouth Dance, Dance in Devon and Barbican Theatre.
Venue: Exeter Phoenix