The Hound Of The Baskervilles
Dartmoor On Film Season
Category
Book Now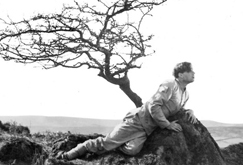 The Hound Of The Baskervilles
*Subject to a £1 ticketing system charge. We don't charge this to make a profit. Find out more >>
Dartmoor On Film Season
In celebration of the exhibition Dartmoor: A Wild and Wondrous Region, RAMM has teamed up with Exeter Phoenix to showcase a season of films that have been shot on or inspired by Dartmoor. Each screening will be preceded by a special introductory talk.
The Hound of Baskervilles (1959)
Sherlock Holmes and Dr Watson are enlisted to protect Sir Henry Baskerville from the legendary Dartmoor hound that caused the death of his uncle, Sir Charles.
The family seems to be cursed because of previous ancestral crimes, and it is assumed Sir Henry may suffer the same fate as Sir Charles. The legend of the curse also tells of a murderous canine that stalks its victims in the shadowy moors that surround the Baskerville estate.
This film is the first colour feature of Sir Arthur Conan Doyle's legendary sleuth and Terence Fisher's adaptation is a stylish and intriguing mystery.
Venue: Gallery 20, RAMM