The Company of Wolves
A Night Celebrating Angela Carter On Screen
Category
Book Now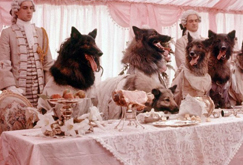 The Company of Wolves
*A note on transaction fees
A small £1.50 fee is added to each transaction. This covers the cost of getting your tickets booked, that's everything from the booking software to card charges. We don't charge this to make a profit.
A Night Celebrating Angela Carter on Screen, featuring The Company of Wolves
In collaboration with University of Exeter Dr Anna Watz, Senior Lecturer at the University of Linköping, Sweden presents an evening celebrating the work of Angela Carter, novelist, poet, short story writer & one of the most original voices in the 20th century English literature best known for her feminist, magical realism and picturesque works. Focusing on her screen representation the evening will include 2 screenings followed an informal academic discussion with Dr. Anna Watz and Dr. Felicty Gee.
THE COMPANY OF WOLVES (18)
Dir. Neil Jordan, UK, 1984, 95 mins.
Co-written by Angela Carter and Neil Jordan The Company of Wolves is a retelling of 'Little Red Riding Hood'. Framed as a dream, Rosaleen disobeys the lesson her grandmother teaches her in the original tale: never trust strangers and never stray from the path. Rather than become the wolf's victim, she kisses him and turns into a wolf herself, choosing personal and sexual freedom over the conventional world of marriage and adult responsibilities that she fears.
The screenplay layers several tales from Carter's 1979 short story collection The Bloody Chamber and Other Stories including 'The Company of Wolves' and 'The Werewolf'. Carter and Jordan, who worked closely together on the script and set, also drew on Carter's first adaptation of 'The Company of Wolves' as a play for radio in 1980.
HOLY FAMILY ALBUM
Dir. JoAnn Kaplan, UK, 1991, 27 mins.
Produced by Professor John Ellis, this controversial documentary lays bare Angela Carter's taste for the blasphemous and shocking. The Holy Family Album is a sacrilegious take on the history of Christian painting and iconography. Carter re-imagines this tradition as a series of photographs in God's family album, voyeuristically displaying every moment of family life and simultaneously hiding a few dark secrets. God himself, however, is absent from the photographs, for He is the photographer behind the images, "calling the shots" as Carter puts it in her voice-over narration.
VENUE: STUDIO 74, EXETER PHOENIX