The Bowie Lounge
Rock N Roll Suicide
Category
Book Now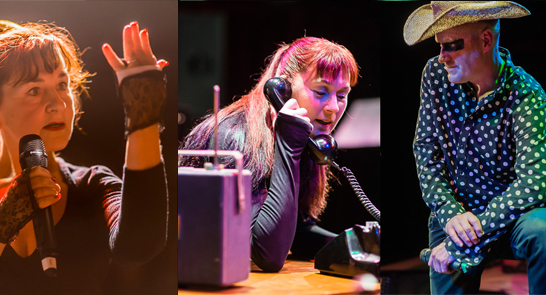 The Bowie Lounge
*A note on transaction fees
A small £1.50 fee is added to each transaction. This covers the cost of getting your tickets booked, that's everything from the booking software to card charges. We don't charge this to make a profit.
The Bowie Lounge
Rock N Roll Suicide
Taking the late-60s Beckenham 'Arts Labs' which David was involved in as their inspiration, The Bowie Lounge perform a selection of his songs combined with readings, poetry, dance and live art and photography and will stage their latest show, Rock n Roll Suicide.
The result of this concoction of creativity is a unique celebration of a man who inspired so many people over the years, performed by a company of exceptional Cornish-based musicians and artists.
With this acclaimed production – first performed in 2013 and updated in light of Bowie's death in 2016 – The Bowie Lounge seeks to engage people with David Bowie's words and music in a way unlike any other show; not a tribute band, but definitely a moving and exhilarating homage to perhaps the greatest rock star of his or any other era.
Featuring Elaine Claxton, Paul Drayton, Stanley Duke, Liam Jolly, Toby Seth, Keith Sparrow, Star and Juliet Walshe.
'The best music event Cornwall has seen in 2016'
THE WEST BRITON
'I've seen nothing else quite like The Bowie Lounge. Multimedia excursions into dance, movement, canvas and paint are anchored by clever, surprising, dramatic interpretations of those wonderful songs, infused with a deep love and understanding of Bowie's own artistic method. Poignant and enchanting – and, just as importantly, huge fun.'
NICHOLAS PEGG, AUTHOR OF THE COMPLETE DAVID BOWIE
'A strange and wonderful experience, The Bowie Lounge blends music, painting, theatre and dance to create something which is joyful, melancholic and really rather moving. I absolutely loved it.'
MARK KERMODE
Venue: Exeter Phoenix